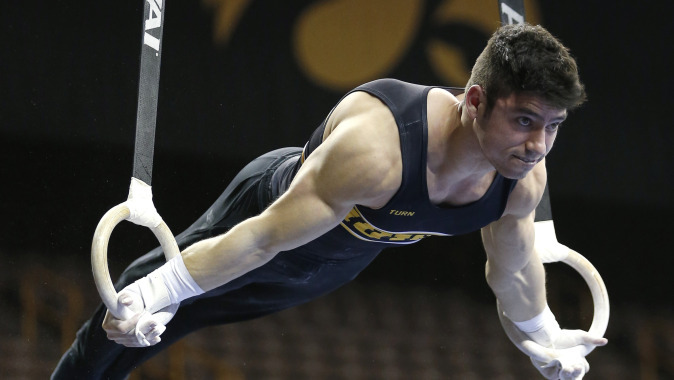 April 1, 2016
Full Results

COLUMBUS, Ohio — In a low scoring and tightly contested Big Ten Championship where eight points separated the top five teams, the University of Iowa men's gymnastics team placed fifth overall with a 426.700 and qualified five gymnasts for Saturday's individual event finals.
Five Hawkeyes qualified for individual event finals tomorrow night. Jack Boyle (rings, high bar), Matt Loochtan (floor, rings), Doug Sullivan (pommel horse), Austin Hodges (pommel horse), and Dylan Ellsworth (vault) qualified for individual event finals by placing in the top 10 in an event. Ellsworth is in a five-way tie for the final spot in the individual finals and a tie breaker will be given.
"They did a good job," head coach JD Reive said. "We did not have a bad meet by any means. The scoring was lower across the board and we had a couple dings here and there, but otherwise it was a good meet. We fought all the way through the entire meet."
The Hawkeyes began on parallel bars. Ellsworth posted a 14.600 to 12th, Loochtan scored a 14.450, tying for 18th and senior Cyrus Dobre-Mofid hit a 14.250 for 24th overall.
Iowa struggled on high bar during the second rotation. They scored a 68.900 team score on the event. Boyle recorded a 14.050 to lead the Hawkeyes and tie for eighth. Hodges (13.950) and junior Cory Paterson (13.850) followed behind in 12th and tying for 13th, respectively.
The team bounced back on floor with a 71.550 and three scores above a 14.500. Loochtan led the team with a 14.900 and placed fifth. Ellsworth followed in 14th place with a 14.550 and junior Mark Springett posted a 14.500, tying for 15th place.
The Hawkeyes had a solid performance on pommel horse with a 70.100 team score. Hodges' 14.700 landed him in eighth place. Sullivan, a 2015 All-Conference gymnast on pommel horse, hit a 14.450 for ninth place and senior Emmanuel Monroy scored a 13.900 for 18th.
Iowa began to look stronger as the meet went on and it showed on rings. Iowa scored a 72.250 thanks to Loochtan's career-high 15.550, placing him second overall. Boyle followed him with a 14.900, placing eighth and Springett tallied a 14.100 for 25th place.
The Hawkeyes finished strong with a team high event score of 72.900 on vault. Ellsworth tallied a 14.850 for eighth place while junior Andrew Botto and Loochtan recorded scores of 14.650, tying for 17th.
Ohio State won the Big Ten Championship with a score of 434.450 followed by Illinois (429.700), Minnesota (429.100), Penn State (427.150), Iowa (426.700), Nebraska (421.450), and Michigan (417.250).
In the all-around competition, Loochtan placed fourth overall with an 86.100. Ohio State's Sean Melton won the all-around with an 89.750.
The Hawkeyes are back in action tomorrow night for individual event finals. The competition begins at 6 p.m. (CT) on Big Ten Network.