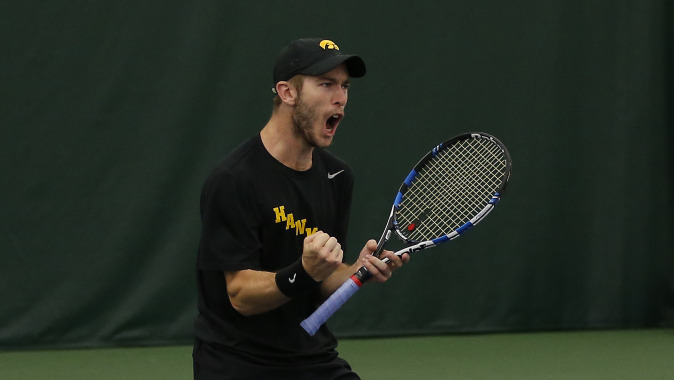 April 4, 2016
Editor's Note: The following first appeared in the University of Iowa's Hawk Talk Daily, an e-newsletter that offers a daily look at the Iowa Hawkeyes, delivered free each morning to thousands of fans of the Hawkeyes worldwide. To receive daily news from the Iowa Hawkeyes, sign up HERE.
By SYDNEY OCKER
hawkeyesports.com
IOWA CITY, Iowa — For many students, being a Division I athlete is just a dream. For University of Iowa sophomore Jake Jacoby, it's practically a family business.
"My dad played football at Notre Dame so I always had him on this pedestal," Jacoby said.
His mother was also a collegiate athlete, who swam competitively for Harvard. Thanks to the influence of his parents, Jacoby said, "playing some sport collegiately was always this cool idea that I had in the back of my mind."
Jacoby picked up a racket when he was 9-years-old at the Chenal Country Club near his house in Arkansas and fell in love with the sport of tennis.
"Once I started playing tennis and watching it on TV, I fell in love with the fact that tennis requires athleticism, but is also a mental game and requires a lot of thinking," Jacoby said.
He went on to say his parents could see how much he enjoyed the sport and encouraged him to continue practicing with the club professionals at Chenal.
As his career progressed, Jacoby began to see himself improve in the rankings. Being from Arkansas, he was considered part of the United States Tennis Association's (USTA) Southern Region and was ranked as high as No. 1 by the time he was 14.
After reaching No. 1, Jacoby began seriously considering the idea of following in his parents' footsteps.
"Even though my parents didn't have tennis experience, I was still able to obtain a good background from them," Jacoby said. "They gave me a great base of what it takes to be a Division I athlete and what to expect once I reached that level."
His parents not only taught him what to expect, they taught him how to act on the court as well.
"What they care about, and what coach (Ross Wilson) cares about, is the attitude I have on the court and if I gave it 110 percent," said Jacoby.
Jacoby has accumulated a record of 12-5 at the No. 5 and No. 6 playing positions. With 11 of those wins coming at No. 6, Jacoby is on his way to a spot in the UI men's tennis record book for most single season wins at an individual position.
His sister Katie, 17, is setting records of her own in the pool and also looking to enter the family business.
"It's fun to see how our whole family is built around athletics," Jacoby said.
"I love that Katie is excelling at a sport she loves and could potentially be a Division I athlete at the same time as me."
As for his future, Jacoby has considered taking his athletic career a step further than his parents. When his turn finally came to pick a school, Jacoby knew as soon as he visited Iowa City that it was the best place for him as an athlete and a student.
"If there is any place I could have the chance to go pro, it would be here with Ross and the guys," Jacoby said.