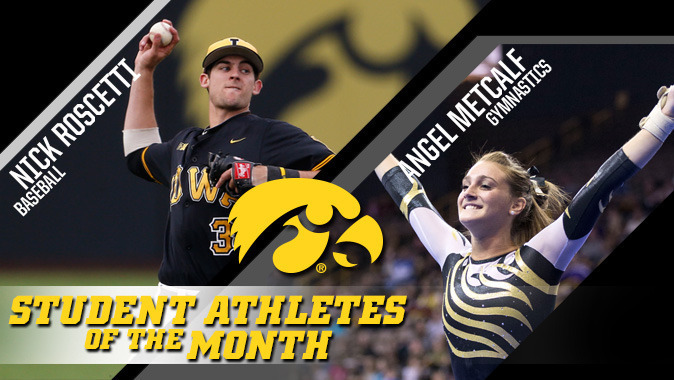 April 5, 2016
IOWA CITY, Iowa — The University of Iowa's Student-Athlete Academic Services has recognized senior Nick Roscetti and junior Angel Metcalf as March's male and female Student-Athletes of the Month.
Voted on by their peers, this honor recognizes those student-athletes who have excelled not only in their sport, but in the classroom as well.
A native of Sherman, Illinois, Roscetti has started all 25 of Iowa's games this season and is hitting .327 with eight doubles, two home runs, 20 runs scored, and 20 RBI's. Roscetti hit .375 during the month of the March, tallying at least one hit in 14-of-16 games, including nine multiple hit games.
On March 22, Roscetti had the game-winning RBI single in the bottom of the ninth inning to give Iowa a 7-6 walk-off victory over Bradley. The shortstop went 3-for-4 with a career-high four RBI's in the victory.
Roscetti also helped Iowa to its third straight Big Ten opening series victory, taking 2-of-3 games from Maryland.
A native of Swansboro, North Carolina, Metcalf ranks 32nd nationally in the all-around, and has collected two event titles on bars and one on beam this season. She was named second-team All-Big Ten, marking the first postseason honor of her career.
On March 12, at the Penn State Big Five Meet, Metcalf led the Hawkeyes with fifth place finishes on beam (9.900), vault (9.875), and bars (9.850). Her total on beam was a season best.
Metcalf also paced the GymHawks at the Big Ten Championships, winning Division I of the event, and finishing ninth in the all-around (39.225), 12th on beam (9.825), and 20th on bars (9.825). Her performance earned her All-Championship Team honors for the second consecutive year. Last weekend, Metcalf helped Iowa to a fourth place finish in the first round of the NCAA Tournament, tying for fifth on bars (9.900).
Outside of gymnastics, Metcalf is also actively involved with the Iowa City community. A member of ISAAC, Metcalf has participated in Women's Gymnastics Special Olympics Unified Day, Habitat for Humanity, Adopt a Family, and has volunteered at the Iowa City/Coralville senior center.