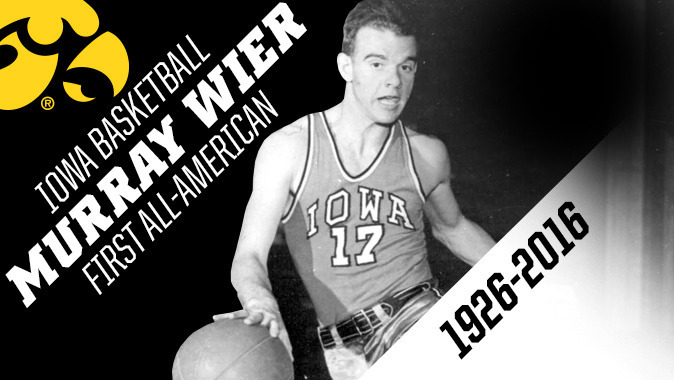 April 6, 2016
IOWA CITY, Iowa — Former University of Iowa men's basketball standout Murray Wier passed away Wednesday morning at the age of 89 at his home in Georgetown, Texas. Funeral arrangements are pending.
Wier, a Grandview, Iowa, native was a four-year starter on the Hawkeyes from 1945-48. He averaged 7.8 points per game as a freshman in 1945, helping lead Iowa to a Big Ten championship. As a senior, Wier became the first officially recognized Division I NCAA scoring leader and Iowa's first-ever consensus first-team All-American, averaging 21 points per game. He set a then-Big Ten record of 272 points in conference play, earning first-team all-league and team Most Valuable Player accolades in 1948. Additionally, Wier is one of only three Hawkeyes to earn the Chicago Tribune's trophy as the Big Ten's Most Valuable Player. Wier averaged 8.4 points as a sophomore and a team-best 15.1 points as a junior.
"Our deepest condolences go out to the Wier family," said UI head coach Fran McCaffery. Murray was one of the all-time greats, blazing the trail for Iowa basketball. Murray won a Big Ten championship, and led the NCAA in scoring and becoming the program's first first-team All-American. He will be missed by everyone in the Iowa basketball family."
After a successful collegiate career, Wier was selected in the 1948 Basketball Association of America Draft by the Ft. Wayne Pistons, however began his professional career with the Tri-Cities Blackhawks. Wier played for Hall of Fame coach Red Auerbach in his second season with the Blackhawks. After three seasons with the Blackhawks, Wier played his final year of professional basketball with the Waterloo Hawks of the National Professional Basketball League.
"Murray Wier is recognized as one of the very best basketball players to ever compete for the University of Iowa," said UI director of athletics Gary Barta. "His individual talents were ahead of his time, and he led the Hawkeyes to a Big Ten championship, along with both a second and third place finish. More importantly, he was a great representative of the University of Iowa, and Hawkeye basketball, throughout his life. Our condolences go out to Marge, and the entire Wier family."
Wier was born Dec. 12, 1926, in Grandview, Iowa. He attended Grandview High School his first three years before moving to Muscatine and Muscatine High School his senior year. He was a first-team all-state selection as a senior.
Wier is survived by his wife, Marge, and children Terry, Sandra, Marcia, Jeff, and Sally.