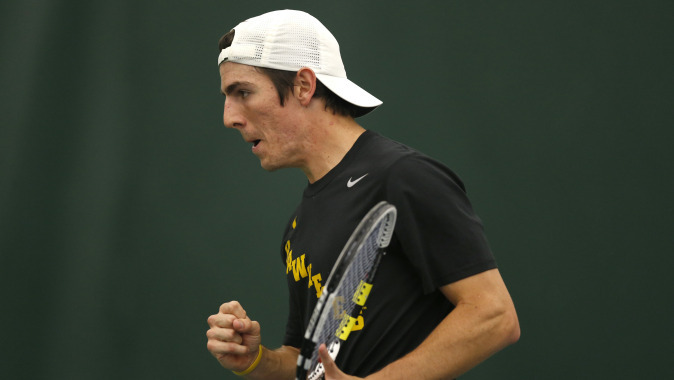 April 13, 2016
WHAT YOU NEED TO KNOW:
No. 67 Iowa is hosting No. 59 Purdue outside on the Klotz tennis courts at the HTRC on Friday at 6 p.m.
The No. 67 Hawkeyes are set to host Indiana and Chicago State on Sunday. The matches will be played outside at noon and 6 p.m. respectively.
Sunday is Senior Day. The Hawkeyes will honor Dominic Patrick as he plays his final matches at the HTRC.
The HTRC is now equipped with PlaySight technology and all home Hawkeye tennis matches will be live streamed across the globe.
THIS WEEK:
The 67th-ranked University of Iowa men's tennis team is at the Hawkeye Tennis and Recreation Complex (HTRC) Friday and Sunday for its final home stand of the season. Friday will be the first Big Ten match up of the week as the Hawkeyes host No. 59 Purdue at 6 p.m. On Sunday, Iowa will start the day against Indiana at noon and finish with a nightcap versus Chicago State at 5 p.m. All matches are scheduled to be played outside, weather permitting. Admission is free to the public.
SENIOR DAY:
Sunday will be senior day at the HTRC as the Hawkeye's lone senior, Dominic Patrick, plays his last match outside on the Klotz Courts.
"I don't have any emotions about it right now. It's been a good season so far and if we can cap off this weekend with a couple wins it'll make it a really good year," said Patrick.
In singles, the Hawkeye has accumulated 61 wins with 38 wins in doubles during his fours years at Iowa. With 61 wins, Patrick sits at No. 12 in the record books for career singles wins. He is one win away from tying Reinoud Haal and Will Vasos for 10th.
"It's been journey, we've been through a lot and I think a lot of good things have happened in the program. Ross has done an excellent job stepping in as head coach and bringing aboard Greg was a big thing for our program. It's just going to continue to grow."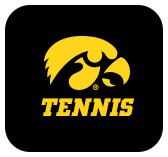 SCOUTING THE COMPETITION:
The No. 59 Boilermakers are 13-8 this season with a 2-5 record in Big Ten play. Historically, Iowa is 40-31 against Purdue. Last season, the Hawkeyes traveled to West Lafayette for a, 4-1, victory over the Boilermakers.
Chicago State is 0-11 on the road his season. Sunday's match up will be just the second meeting of the two programs. Iowa won last season 7-0.
Indiana has two ranked opponents in their win column, one of those being then No. 33 Penn State. They are currently 2-5 in conference play. The Hoosiers will play Nebraska Friday before traveling to Iowa City.
PLAY IN SIGHT:
The HTRC is now equipped with the leading technology in sports video-review and analytics. PlaySight is already being utilized by top programs like UNC, Northwestern, and Ohio State.
Both the men's and women's teams will be able to use the technology to collect data on their athletes and improve the games of tennis players in both programs.
PlaySight will also stream all Iowa matches live worldwide on both the inside and outside courts.
FOLLOW THE HAWKEYES
Fans can follow the Hawkeyes all season long and receive live match updates on Facebook (facebook.com/IowaMensTennis) or on Twitter (@IowaMensTennis). Fans can also get a behind the scene look on Snapchat (uiowamenstennis).
HAWKS LIVE
Live stats and live video streaming will be available for Friday's match against No. 59 Purdue and Sunday's doubleheader against Indiana and Chicago State on the Iowa men's tennis schedule page at hawkeyesports.com. Check out our Twitter and Facebook the day of the match for a direct link.