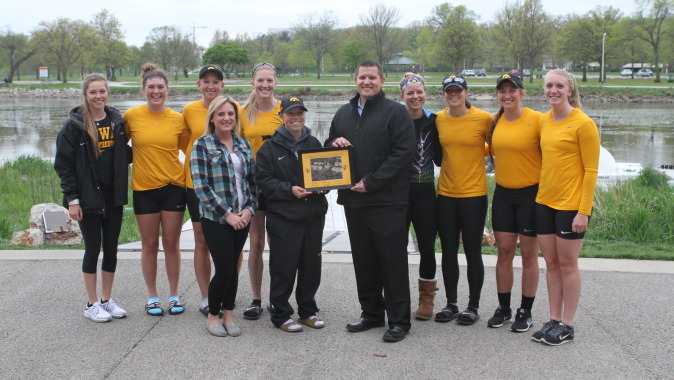 May 1, 2016
Editor's Note: The following first appeared in the University of Iowa's Hawk Talk Daily, an e-newsletter that offers a daily look at the Iowa Hawkeyes, delivered free each morning to thousands of fans of the Hawkeyes worldwide. To receive daily news from the Iowa Hawkeyes, sign up HERE.
By JIL PRICE
IOWA CITY, Iowa — Every year, the University of Iowa Veterans Association (UIVA) sets up an elaborate flag display on the Pentacrest that coincides with Veteran's Day. The fourth annual flag display included more than 5,000 flags accompanied with a laminated card with the name of a veteran, someone currently serving, or a family member associated with a veteran or current member of the armed forces.
The display requires many volunteers and the UIVA relies on connections in the community and on campus to make it happen year-in and year-out.
After hearing about it from its Iowa Student Athlete Advisory Committee (ISAAC) representative, senior Katie Brown, and realizing the event fell on an off-day, several members of the University of Iowa rowing team dedicated their Sunday to assist with the project.
"(The display is) a big production and takes a lot of hands because more than 100 man-hours goes in to making it," UIVA staff advisor Travis Arment. "Because of that, we like to partner with individuals across campus in the athletics department and in the community.
"The members of the rowing team, to me, were the all-stars this year. They showed up and were all hands on deck. We actually finished 15-20 minutes before our scheduled flight for the flyover. Without the rowing team's help, there is no way we could have pulled it off. They were involved in the production of laminating, cutting, and putting it all together."
On Friday afternoon, representatives from the UIVA visited the Hawkeyes prior to practice. They presented the team's volunteers with an aerial photo of the display, which was taken during the flyover, to thank them for assisting with the project and making this year's display such a success.
For one of the volunteers, senior Madeline Anglin, the experience of working with the UIVA on the display hit home. Her brother, Josh, is a Marine stationed in Marine Corps Base Camp LeJeune in Jacksonville, North Carolina.
"It was neat to see all the different names on each flag," Anglin said. "I know there are tons and tons of people out there who are serving for our country. My brother is a Marine, and I felt like it was great to be recognizing people out there who may not have that support elsewhere."
While graduation is on the horizon for Anglin, the experience was impactful. If more opportunities exist for her to give back, she and her teammates are on board to help make a difference.
"It was a real honor for me to be able to show my support and be thankful to all the people who do serve and help keep our country safe," Anglin said. "I enjoyed the opportunity and if other opportunities like this present themselves I would like to continue to help out."
To learn more about the UIVA, a student organization geared toward providing opportunities for veterans, guard and reservists, as well as military brats and spouses or permanent roommates that attend the university, visit veterans.org.uiowa.edu/.