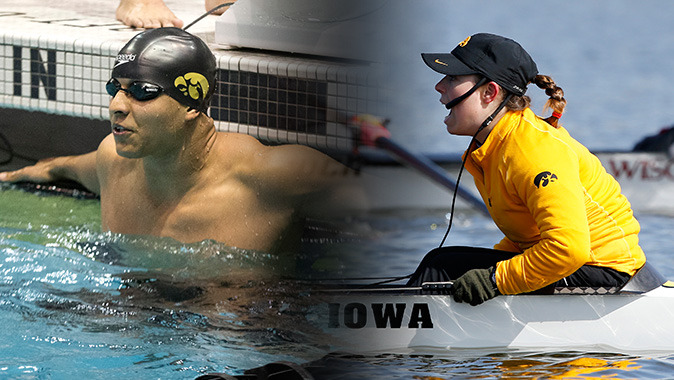 May 12, 2016
IOWA CITY, Iowa — Seniors Katie Brown (rowing) and Charles Holliday (men's swimming and diving) were chosen as the University of Iowa's recipients of the annual Big Ten Conference Postgraduate Scholarship. Twenty-eight student-athletes from the 14 Big Ten institutions, who plan to continue their education at a graduate degree program, were awarded the scholarship, based primarily on academic achievements, and $15,000 will be awarded to each institution.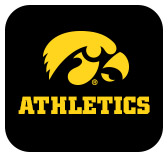 Brown, a native of Fox Lake, Illinois, is the coxswain of Iowa's first varsity eight crew, which is the fastest on the team. She was chosen as Iowa's Big Ten Medal of Honor winner earlier this month, and will enroll in the behavior specialist I program at the University of Illinois. After joining the rowing program as a novice, Brown worked her way up each season to the top position. She has helped the Hawkeyes improve steadily, entering the national rankings for the first time in six years this season. Brown, a two-time Academic All-Big Ten honoree and Collegiate Rowing Coaches Association Scholar-Athlete, has helped the first varsity eight to one first place and three runner-up finishes this season, including an upset win against 15th-ranked Louisville at the Big Ten/ACC Double Dual.
Holliday, a member of the UI men's swimming and diving program, led the Hawkeyes in the 50-yard freestyle as a senior in 2015-16. He swam an NCAA "B" qualifying time of 19.97 seconds at the 2016 Big Ten Championships, the eighth-fastest time in program history. The Rock Island, Illinois, native will receive his bachelor's degree in human physiology this month, and plans to attend medical school at the University of Michigan. Holliday has conducted microbiology research funded by NASA, was on the Dean's List for six semesters, and was also a President's List honoree. This fall, Holliday will join the Black Medical Association, where he will mentor young minorities and advocate for diversity and health equity in medicine. Holliday was a semifinalist for the Arthur Ashe, Jr., Sports Scholar Award, for which there were more than 1,000 nominations.
Each Big Ten institution developed its own on-campus selection process when awarding the scholarship. Students must have maintained at least a 3.2 grade-point-average, demonstrated leadership qualities, served as an excellent role model and intended to continue their academic work beyond their baccalaureate degree at a graduate degree program.
The scholarship will be used to pay expenses of the student's postgraduate education to include such related activities as research and teaching, as well as other expenses such as tuition, fees, room and board, required course-related supplies and books. In order to retain the scholarship, the recipient must be accepted into a full-time graduate degree program within three years from the fall semester after selection.