24 Hawkeyes to Watch 2016-17 | Purchase Single-Game Tickets | 2016 Iowa Football Schedule | B1G Media Day Photo Gallery | Ferentz Transcript – July 26 | 2016 Big Ten Media Day
By JAMES ALLAN
hawkeyesports.com
CHICAGO — College football seasons — like elevators — go up and down.
 
University of Iowa head coach Kirk Ferentz confessed as much Tuesday during the second day of the 2016 Big Ten Media Days at the Hyatt Regency McCormick Place.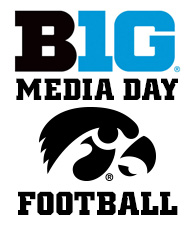 A year after being a preseason afterthought in the Big Ten West Division, Iowa surprised college football by rolling to a 12-0 regular season, winning the Big Ten West Division, and playing in the 2016 Rose Bowl Game. 
 
Success brings expectations.
 
The Hawkeyes are now a trendy pick to repeat as West Division champions and make a return trip to Indianapolis. Iowa even received a vote to win the Big Ten Championship Game in a media poll conducted by Cleveland.com. 
 
"It's simple, predictions didn't provide to be very fruitful last year and that's one of the first messages we'll send our team," Ferentz said. "We were picked fourth or fifth last year and it had no bearing on our season. It goes both ways, elevators go up and down, and it's the same thing here."
 
The Hawkeyes have a successful blueprint to draw upon following the first 12-win season in school history: It always comes down to the little things.
 
"We need to be to be focused on what last year's team did, how they operated and handled things," said Ferentz. "How did they meet challenges that were presented to them… that's going to be the key.
 
"Little things matter, they are big things. Our ability to handle little details and do little things well on a consistent basis typically is a measure of our success."
 
The Hawkeyes have 15 starters returning — seven on both offense and defense and one specialist.  It's what Ferentz calls a "new" group, but one with experience.
 
"We lost 21 outstanding seniors off our football team," said Ferentz. "They did a great job of modeling the right type of behavior and the types of things you have to do when you want to have a winning team.
 
"As we look forward right now, this is a new team. We have new opportunities and a new set of challenges.  Anytime you have a good team, you lose good players, and that's the case here, but we have a lot of quality players back that we're excited about."
 
It starts with the three student-athletes — C.J. Beathard, Desmond King, and Josey Jewell — who represented the program at the annual start-to-the-season event.
 
Beathard is back for his second season after passing for 2,809 yards and 17 touchdowns. He says he is 100 percent healthy after playing injured for nearly 3/4 of the 2015 season.
 
"We have different competitive drills that (strength coach) Chris (Doyle) does with the guys and it seems like he has been winning a lot of those," said Ferentz when asked about Beathard's health. "When I have watched the guys run, he has been out in front and this goes back to post-spring ball. He has been doing well."
 
The Hawkeyes received welcomed news when consensus All-American and 2015 Jim Thorpe Award recipient King elected to return for his senior season, bypassing the NFL Draft.  King had 82 tackles and eight interceptions last season.
 
"You only get to be a senior twice in your life as an athlete and those are enjoyable, fulfilling years," said Ferentz. "Desmond appreciated that. He is excited about being back and embracing the challenge of being a leader and being a better player than he was last year.
 
"It may not show up statistically, but being a better football player for us, that's something we're all counting on."
 
Jewell, a second-team All-Big Ten selection as a sophomore, made 126 tackles and had 7.5 tackles for loss last season.  He was the first sophomore captain under Ferentz and is the first underclassmen to represent the program at Big Ten Media Day.
 
"He has achieved something no player has done in the last 17 years at our place," said Ferentz. "He's a tremendous representative, has done a great job on the field, and is a tremendous leader."
 
For the elevator stay on track, Ferentz says his key players have to play their best football. 
 
"Every guy that is here today, if they don't play better this year — if our best guys don't get better — we're going to be in for a tough year," said Ferentz.
 
Iowa opens fall camp next week with media day being held Saturday at the Stew and LeNore Hansen Football Performance Center. The Hawkeyes open the 2016 season by hosting Miami (Ohio) at 2:30 p.m. (CT) on Sept. 3 inside Kinnick Stadium.