24 Hawkeyes to Watch 2016-17 | Buy Tickets | VIDEO — LeShun Daniels, Jr. | 2016 Hawkeye Football Schedule
Editor's note:24 Hawkeyes to Watch is a feature released Monday, Aug. 1, highlighting one athlete from each of the 24 intercollegiate sports offered by the University of Iowa. More than 700 talented student-athletes are currently busy preparing for the 2016-17 athletics year at the UI. Hawkeyesports.com will introduce you to 24 Hawkeyes who, for one reason or another, are poised to play a prominent role in the intercollegiate athletics program at the UI in the coming year.
By DARREN MILLER
hawkeyesports.com
 
IOWA CITY, Iowa — You could expect University of Iowa football fans to look at senior running back LeShun Daniels, Jr., and flash back eight seasons to when Shonn Greene was in the backfield.
 
The two Hawkeyes mirror each other physically: Greene was 5-feet-11, 235 pounds, Daniels is 6-0, 225. And it took both time to compile showy numbers.
 
The latter is where Daniels hopes to further mimic Greene.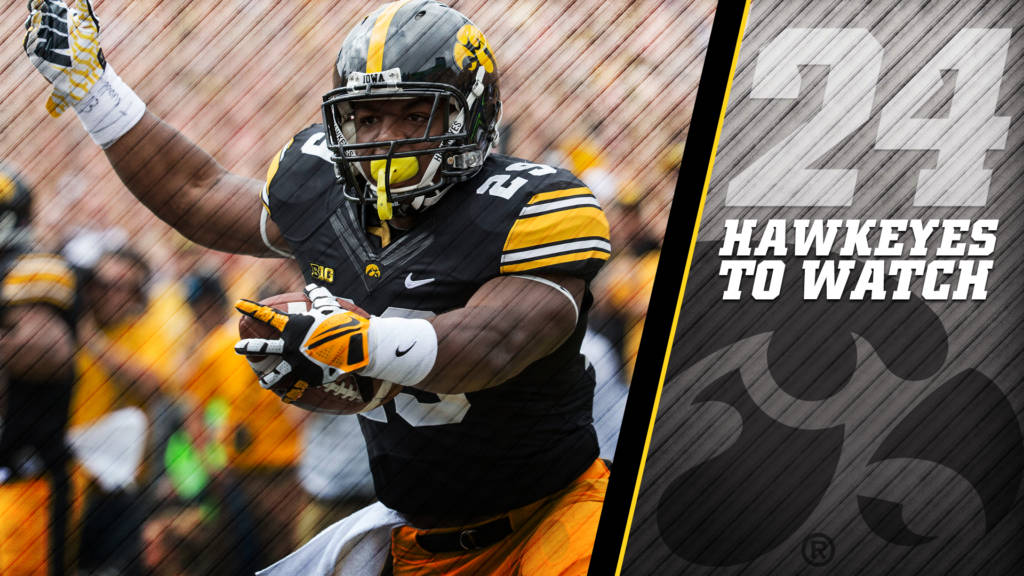 Greene entered his final season at Iowa with 378 career rushing yards before turning in the greatest single-season performance in school history with 1,850 rushing yards and 20 touchdowns while winning the Doak Walker Award as the nation's premier running back.
 
"(Greene) has put up numbers and I haven't," said Daniels, who ran for 646 yards as a junior. "I still have plenty to prove and that's what I am out here to do in my final season. I want to go out and do the best I can so I can actually be mentioned with Shonn Greene as one of the best running backs to ever come through the University of Iowa."
 
Injuries have limited Daniels' production. As a sophomore he suffered a stress fracture in his right ankle and missed the final five games of the regular season. Last season he sprained the same ankle and sat out victories over Illinois and Northwestern.
 
"It's hard. You see your teammates practicing, lifting, and playing the game and you want to do whatever you can to get back on the field," Daniels said. "When you're injured you're almost not part of the team because you're not doing what they are doing. You want to get back on the field with them and help contribute and win games."
 
Daniels was one of four true freshmen to see action for the Hawkeyes in 2013. He played seven games and rushed for 142 yards, including a season-high 54 yards on 14 carries during a 59-3 win over Western Michigan. As a sophomore in 2014, Daniels played in five games, carrying the ball 15 times for 49 yards. In a season-opening 31-23 victory over Northern Iowa, he scored his first touchdown (from 13 yards) and caught one pass for five yards. It is his only collegiate reception.
 
"I'm working on catching out of the backfield and being a total package back so I don't have to come out of the game on third down," Daniels said. "You don't want to limit the coach's playbook, so I'm working on being an all-around back so I don't have to come off the field as much."
 
The first game of his junior season — a 31-14 win over Illinois State — was a highlight for Daniels, who picked up 123 yards on 23 carries with a long of 27. That remained his career-high until he torched Minnesota for 195 yards on 26 carries and three touchdowns on Nov. 14.
 
"He has a burst and can make a guy miss, you saw that in the Minnesota game," said UI running backs coach Chris White. "Those were probably the most explosive jump-cuts that I have seen in a long time and he ended up winning the game for us on that (51-yard touchdown) run."
 
During a four-game stretch that included wins against Maryland, Indiana, Minnesota, and Purdue, Daniels rushed for 364 yards (91 per game) and eight touchdowns.
 
The challenge in 2016 is to do it for 12 regular-season games and beyond. Nothing says consistency like Greene's monster season of 2008. For all 13 games, Greene ran for more than 100 yards and he found the end zone in 12 of those contests. Greene scored three times and rushed for 121 yards in the first three quarters of a 31-10 rout of South Carolina in the 2009 Outback Bowl.
 
"We're hoping LeShun can have that for us as well," White said. "He can run inside and outside and we're looking forward to having a healthy LeShun Daniels this year."
 
Daniels' father played offensive guard for Ohio State from 1994-96. His brother, James, is a sophomore offensive lineman for the Hawkeyes. LeShun, Jr., was destined for the sport he began playing as a 6-year-old. But he wasn't always meant for the backfield.
 
A bout of adolescent chubbiness left Daniels with a weight too high to play in the backfield of youth football, so he became the fastest lineman in the league. He also participated in wrestling and track and when he competed in middle and high school — without weight limits — he not only slimmed down, but evolved into a formidable running back who was difficult to tackle.
 
LeShun, Sr., let his son handle the college recruiting process after two productive seasons at Harding High School in Warren, Ohio (2,522 rushing yards, 22 touchdowns). A suggestion from the elder Daniels was to look for coaching stability and a healthy academic environment. Daniels found everything he needed at the University of Iowa.
 
"I felt something different when I came here listening to coaches and players on the team talk," Daniels said. "This place felt like home. I felt I fit in and connected well with everyone. This is where I needed to be."
 
Leading rusher Jordan Canzeri (984 yards, 12 touchdowns) graduated, leaving Daniels as the top ground-gainer returning from a Hawkeye team that went 12-2 in 2015. Iowa won the Big Ten Conference West Division, advanced to the Big Ten Championship, and played in the Rose Bowl Game for the first time in 25 years.
 
In the final two games — losses to Michigan State and Stanford — the Hawkeyes averaged 50 yards per game on the ground with no touchdowns. That motivates Daniels more than 12 consecutive wins.
 
"People love to talk about being 12-0 last year, but we weren't 12-0," Daniels said. "We lost two tough games. It gives you motivation and we have to improve on that so we have a better season in 2016.
 
"As a senior you want to leave your mark on the program. You want to improve on what we did in 2015. We know for us to get back to Indianapolis and change the results, we are going to have to keep working and getting better each day."
 
The Hawkeyes will hold their annual media day Saturday, Aug. 6, at the Stew and LeNore Hansen Football Performance Center. Iowa's first game will be Sept. 3 against Miami (Ohio) at 2:30 p.m. (CT) inside Kinnick Stadium.