Hawkeye Fan Shop — A Black & Gold Store | 24 Hawkeyes to Watch 2016-17 | Purchase Single-Game Tickets | 2016 Football Fall Camp Central
By RICK BROWN
hawkeyesports.com
Leading up to the 2016 season opener against Miami of Ohio on Sept. 3 at Kinnick Stadium, hawkeyesports.com's Rick Brown is taking a game-by-game look back at the University of Iowa's historic 2015 season.
With perspective from Iowa head coach Kirk Ferentz, his staff and players, we hope to give you some insight into a season that will never be forgotten. 
 
Iowa 35, Indiana 27
Nov. 7, 2015, Memorial Stadium
Bloomington, Ind.
Injuries limited quarterback C.J. Beathard's practice time during the entire Big Ten season. So when Iowa took its 8-0 record to Indiana the first week of November, the game plan depended on some word of mouth.
 
"We didn't do a lot with him as the season went on, so before the ballgame I said, 'If there's a situation where we need it, are you comfortable with me calling a quarterback draw?' " offensive coordinator and quarterbacks coach Greg Davis recalled. "And he (Beathard) said, 'Absolutely.' "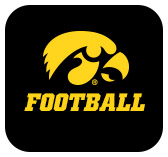 Jordan Howard's 29-yard touchdown run had given the Hoosiers a 17-14 lead with 3:52 remaining before halftime.
 
Nine plays and 58 yards later, Iowa had the ball second-and-goal at the Indiana 7 with 23 seconds left in the second quarter.
 
The call came down from Davis in the press box: quarterback draw.
 
"When I called it, and saw how the defense was set up, I thought, 'OK, we have a chance for a pretty good play here,' " Davis said.
 
Beathard took the snap from the shotgun, dropped two steps and moved up field. Then he cut left and headed for the corner of the end zone.
 
"When he got to about the 3-yard-line I knew exactly what was going to happen," Davis said. "And I'm screaming, 'No, no.' "
 
Beathard, playing with a sports hernia and injured groin, went airborne as he neared the left pylon. The helmet of an Indiana defender knocked the ball out of his grasp, but he had already crossed the goal line. Beathard flipped in the air and landed on his tailbone.
 
"I'm thinking, 'Get up, get up, get up,' " Davis said. "He sold out to get in. He's a tough kid."
 
Iowa coach Kirk Ferentz had seen that play before.
 
"It was like that Drew Tate play against Northwestern in 2005," Ferentz said. "I remember when he went up over the top, too. It was a very similar play. And he went to the right."
 
But as Beathard negotiated his way to the end zone, Ferentz couldn't believe what he was seeing.
 
"I'm thinking to myself, 'He's not going to do that….he can't,' " Ferentz said. "But he did it. That's just one of those things athletes do. I didn't think he was physically capable of doing what he did, and I was certainly worried about the aftereffects. All of us were."
 
Ferentz called Beathard's touchdown "A Kodak Moment," but the quarterback doesn't consider it the most memorable snapshot of the season. He voted for Marshall Koehn's 57-yard field goal that beat Pittsburgh in week three.
 
"I scored on that play, but it wasn't one of those moments where it was like we had just won the game because of it," Beathard said. "It was before the half, and it was a big play, but I wouldn't say it was the most memorable moment."
 
It gave Iowa a 21-17 halftime lead. A lead the Hawkeyes didn't surrender in a tight and tense second half.
 
Indiana finished with 407 yards of offense. Howard gained 174 yards in 22 carries, and scored twice. Quarterback Nate Sudfeld passed for 180 yards and a touchdown, but completed just 16 of 37 attempts.
 
"We watched them play Ohio State (a 34-27 loss) and Michigan State (a 52-26 loss) and they were scoring points against everyone," UI defensive coordinator Phil Parker said. "They love throwing the ball, but they had a great running back. It's hard to defend them. They spread you out and they know what they're doing."
 
Iowa chalked up 467 yards of offense. Beathard threw for 233 yards. Akrum Wadley rushed for 120 yards, including a 65-yard touchdown run on the game's second play from scrimmage. It was a called draw play, then Wadley darted to his left and went the distance.
 
"From my perspective in the press box, about eight yards past the line of scrimmage I'm thinking, 'He's gone,' " Davis said.
 
Matt VandeBerg had a game-high five catches for 68 yards. Tevaun Smith and Jake Hillyer both had four grabs for a collective 108 yards. Beathard's lone touchdown pass of the game was a 10-yard hookup with tight end George Kittle with just over 6 minutes remaining. Kittle did his best Beathard impression, going airborne for the score. That gave the Hawkeyes a 35-20 lead.
 
Indiana had the firepower to come back, but cornerback Desmond King slowed the rally. He cut in front of intended target Mitchell Paige, picked off Sudfeld's pass and got his foot down in-bounds at the Iowa 29. Ferentz weaved through a scrum of players and gave King a double thumbs up. It was King's eighth interception of the season, tying a school record set by Heisman Trophy winner Nile Kinnick in 1939 and matched by Lou King (no relation) in 1981.
 
"To have Desmond pick that one off helped us out," Parker said. "He knew it was coming. He watches a lot of film, and he knew from where the guys were lined up where the play was going. He read the play well."
 
It was one of King's favorite interceptions of the season, because of his fancy footwork and the crucial time it happened.
 
"When you see a team driving the field on you, you've got to make a stop," King said. "That was the play I needed to get our team back into position."
 
After an Iowa punt, Indiana went 76 yards it 10 plays for a touchdown that made it a 35-27 game. The Hoosiers attempted an on-side kick that the Hawkeyes mishandled but recovered.
 
Then it was time for Davis and Beathard to hook up again. It was second-and-9 from the Indiana 48, and Iowa called time out with 1:34 remaining. The Hoosiers were out of timeouts, meaning a Hawkeye first down would end the game.
 
Both Davis and offensive line coach/run-game coordinator Brian Ferentz asked Beathard if he could get around the end on a naked bootleg to pick up the game-clinching yardage.
 
"I said, 'Yes, let me do it,' " Beathard said.
 
The trick to this play is that only Beathard and the running back, in this case — LeShun Daniels, Jr. — know what is coming. Everyone else thinks it's the running play Beathard called in the huddle.
 
"They don't need to know," Beathard said. "They're still blocking the same play."
 
If Indiana's defense had gotten in a formation Beathard wasn't comfortable with, he would have gone ahead with the play that was called. But he got the look he wanted. He took the snap, faked the handoff to Daniels, rolled to his left, tucked the ball under his left arm and gained 11 yards to put the ninth victory of the season in the books.
About the Author
Rick Brown is a native of Fort Dodge, Iowa, and a University of Iowa graduate. He covered Iowa athletics for the past four decades for the Des Moines Register prior to his retirement in December.