August 18 Student Move-In August 18 Student Move-In August 19 Kickoff at Kinnick Aug. 21, 2 PM Informational Meeting
at Carver-Hawkeye Arena Aug. 22, 5 PM Informational Meeting
at Carver-Hawkeye Arena
IOWA CITY, Iowa — The University of Iowa rowing program is hosting two meetings for UI students interested in becoming Hawkeye student-athletes. The first informational meeting is Sunday, Aug. 21 at 2 p.m. (CT). The second is Monday, Aug. 22 at 5 p.m. Both meetings are at Carver-Hawkeye Arena.
 
Current members of the Hawkeye rowing team and coaching staff will be on hand to describe the program, answer questions, and provide information regarding tryouts. Students need to attend just one of the two meetings.
 
Tryouts for the Iowa rowing team are Aug. 26 – Sept. 8. All full-time female students enrolled at the University of Iowa are eligible to tryout. No experience is required to walk-on, but serious consideration will be given to athletic, hardworking individuals that would like to compete in Division I athletics.
 
Collegiate rowing programs across the country recruit students to walk on to the team as "Talent Transfer" athletes. Athletic talent transfer is integral to the success of the varsity rowing team at Iowa and recruits from this pathway have a strong history of developing into successful rowers and coxswains. In fact, over 70 percent of the Hawkeyes racing at the 2016 Big Ten Championships took their first strokes as UIowa. Even more exciting, half of the women competing for Team USA at the Rio Olympics learned to row as collegiate walk-ons.
 
Questions and potential schedule conflicts regarding the Aug. 21-22 meetings can be directed to assistant coach Megan Patrick.
 
Megan Patrick
Assistant Coach & Talent Transfer Coordinator
megan-patrick@uiowa.edu
319 930-7541
hawkeyesports.com
twitter.com/iowarowing
facebook.com/IowaWomensRowing/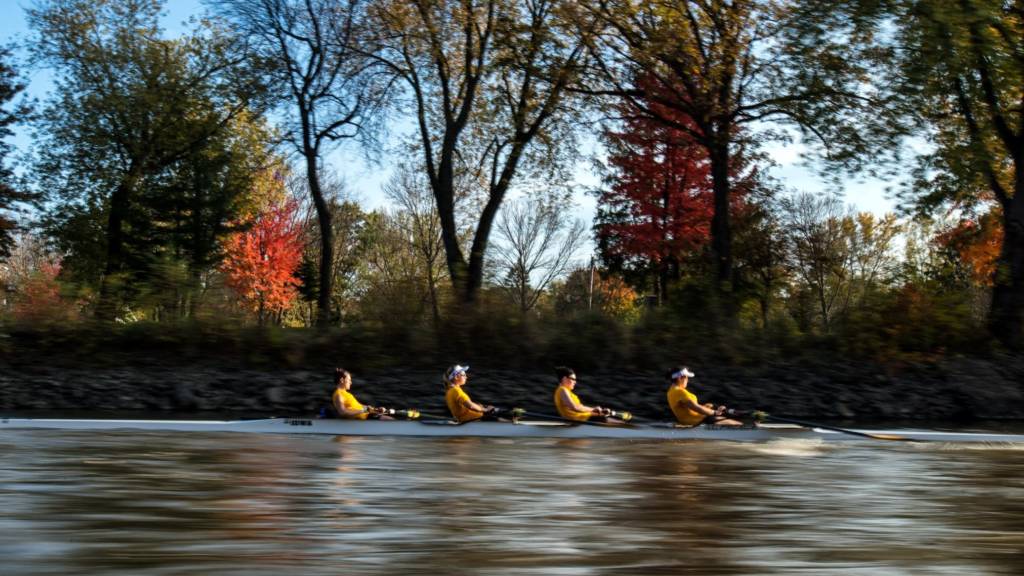 FREQUENTLY ASKED QUESTIONS AND STUDENT-ATHLETE TESTIMONIALS
Q: WHEN AND WHERE ARE PRACTICES?
Practices are held at the beautiful P. Sue Beckwith Boathouse, which is located on Dubuque Street right across from the Mayflower Residence Hall. Later in the year, when you begin resistance and cross-training sessions, you'll do those at Carver Hawkeye Arena. In the early fall we provide three practice windows and you pick which one fits best with your class schedule. Those windows are 7-9 a.m. and 4-6 p.m. Experience has proved this to be absolutely manageable and we will help equip you with the necessary tools to reach your goals.
Q: WHAT WILL I DO AT PRACTICE?
You will first be shown basic rowing technique on rowing machines (we refer to them as ergometers). Next will be sessions devoted to learning how to manage the equipment (i.e., boats and oars). Finally you will begin practicing these things on the water in boats. All this while training to improve your fitness!
Q: WHAT DO I NEED TO BRING TO PRACTICE?
You will need to wear snug-fitting clothes (i.e., spandex shorts, t-shirt) along with socks & sneakers. Sunglasses, sunscreen, and a water bottle are also needed. If you commit to the sport and team, we will eventually issue most of these items to you.
Q: DOES ROWING FOR THE HAWKEYES COST MONEY?
The only money you will pay is to register with the NCAA Eligibility Center, which is required of you if you want to participate in collegiate athletics. The NCAA does not permit us to pay this minor fee for you.
Q: WHAT ABOUT MY GRADES?
As an Athletic Department, we share your focus on academic success and are committed to our core mission of WINNING, GRADUATING, and DOING IT RIGHT. In order to promote these principles, we provide our varsity athletes with a long list of support structures that are designed to help you balance your life here at Iowa. To list a few:
Academic Support – This includes the assistance of our academic coordinators, tutors and learning specialists as well as priority class registration to ensure you can attend practice without conflict (this will take effect second semester for new rowers);
Medical Support – Athletic Trainers and UI medical care for anything related to athletics;
Strength & Conditioning Support – To complement your coaches, strength & conditioning specialists, nutritionists, and sport psychologists are available to help you reach the finish line first.
 Q: Why Iowa Rowing?
 
"I came into the Hawkeye Rowing program as a freshman never having taken a stroke, and now I can't imagine my life without it. Rowing at Iowa has become such a big part of my life in so many different ways. Anyone who rows or has rowed before can tell you it's not just a sport, it becomes a lifestyle. Being a very competitive person, it's been awesome to have been able to challenge myself both physically and mentally. I've pushed myself to levels I never imagined. I have an amazing "surrogate" family of about 80 sisters and coaches, who I work with side-by-side and push myself with every day."
— CLAIRE BENSCHOTER
"The family you get from joining the program is enough in itself. The coaches, academic advisors, athletic personnel are all so supportive of you and what you're trying to achieve. My words of wisdom for walk-ons is to try and not just make it through, but to try and lead the pack and set the standard. It's much more fun when you're competitive and pushing others around you. You really can do it. Many have and every year there are walk-ons that accept the challenge and rise to the top."
— LAUREN SUBLER
"After playing basketball my whole life I wanted to give something else a try. Rowing just happened to be the perfect fit for me as an athlete. Rowing has opened more doors for me than any other sport I've participated in. The sport has made me take my limits as an athlete and as a person and just completely bust them open. Every day I step foot in the boathouse and think about how am I not only going to challenge and better myself, but also those around me. This has absolutely carried over into how I approach situations in life – I never back down when things get tough."
— MORGAN GRASTORF