24 Hawkeyes to Watch 2016-17 | Purchase Single-Game Tickets | Ferentz News Conference PDF 8.30.16
By JAMES ALLAN
hawkeyesports.com
IOWA CITY, Iowa — University of Iowa head coach Kirk Ferentz was pleased with the team's effort throughout fall camp, but he says the Hawkeyes have reached a point where they need to line up against someone else.
 
Iowa gets that chance Saturday when it hosts Miami (Ohio) in its season opener inside Kinnick Stadium.  Kickoff is set for 2:32 p.m. (CT) in a game that will be televised on ESPNU.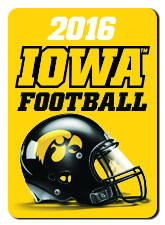 "We're eager to get on the game field; we need to and that's probably true of everybody that's playing," Ferentz said during a Tuesday news conference in the All-America Room of the Stew and LeNore Hansen Football Performance Center.
 
"Overall our experienced guys made good progress (in camp), they did a good job leading. We have a lot of newcomers with 21 seniors graduating and a lot of newcomers that are going to be entering the fray."
 
Iowa has 34 first or second-year players on its two-deeps, which includes eight true freshmen. 
 
"We always feel good about our class, but you don't know until they get on campus," said Ferentz. "Starting with the work they did in June, continuing into July, and most importantly, when they put helmets on in August, we saw some good things.
 
"It's fair to say we'll have a bigger number (play) than normal.  Based on what we've seen in practice, we're optimistic they'll play well and we're going to need that to have a good football team."
 
Iowa will have two players on opposite ends of the spectrum in the kicking game in placekicker Keith Duncan and punter Ron Coluzzi.  Duncan is a freshman from Weddington, North Carolina; Coluzzi is a graduate transfer, joining the program from Central Michigan where he averaged 38.5 yards on 111 punts in 2014-15.
 
"Keith has done a nice job, he has come in and performed," said Ferentz. "He seems pretty unflappable at this stage and I have to compliment him on that.
 
"Ron has done a good job back there, the extra benefit is he's a more mature guy being a college graduate already. With a young, large group of specialists, to have that maturity and confidence, it has been beneficial for other guys that haven't played much."
 
Heading into Week 1, Ferentz says competition is still on-going at a number of positions, meaning several players will see action against the Redhawks. That includes co-No. 1s at defensive end in Anthony Nelson and Matt Nelson and Drake Kulick and Brady Ross at fullback.
 
The Hawkeyes also have slashes on the second unit at center (Lucas LeGrand and Steve Ferentz), quarterback (Tyler Wiegers and Nathan Stanley), outside linebacker (Kevin Ward and Kristian Welch), weakside linebacker (Amani Jones and Aaron Mends), strong safety (Anthony Gair and Amani Hooker), and defensive back (Manny Rugamba and Joshua Jackson).
 
"Most of these competitions have been close, which is a good thing," said Ferentz.
 
Ferentz has a lot of respect for a Miami (Ohio) team that returns 17 starters from a team went 2-9 in 2015 in Chuck Martin's second season.
 
"They're a veteran team," said Ferentz. "They have a lot of guys back offensively and defensively.  Like us, their specialists are new, so they're going to ride the rollercoaster a little bit, but we've got a lot of respect for them.
 
"From my experience, year three is usually where you start gaining traction and ground as a team and program when you're trying to build something new and that's what you can expect from Miami."
 
Ferentz's message to his team leading into Saturday is simple.
 
"It is about getting ready and feeling good about the way we're preparing and then more importantly, coming off the field feeling good about the effort we played with, the energy, did we play smart, and all those things that determine success or non-success," he said. "Over the course of 12 games, if you do that consistently, you've a chance.  If you don't, you run a risk of not having a good outcome."
 
The Hawkeyes get their first chance to run out of the tunnel at Kinnick Stadium in four short days, and it couldn't come at a better time.
 
Approximately 4,400 tickets remain for Saturday's game.  They can be purchased by calling 800-IA-HAWKS or visiting hawkeyesports.com/tickets.