24 Hawkeyes to Watch 2016-17 | Hawkeyes in the NFL | Buy Tickets | 2016 Football Fall Camp Central
By DARREN MILLER
hawkeyesports.com
IOWA CITY, Iowa —  In the words of senior left tackle Cole Croston, the days of bashing each other's skulls are over. Hallelujah, it's finally game week in Iowa City.
 
University of Iowa football players and their head coach met with media a final time Tuesday before they open the season Saturday against Miami (Ohio) at 2:32 p.m. (CT) inside Kinnick Stadium. Since Aug. 4, they have been mano-a-mano against teammates.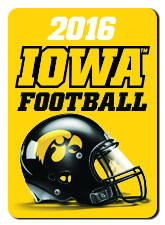 That's why you go through camp, spring ball, and summer workouts to get to this point, to get to game week," UI senior cornerback Greg Mabin said. "We're taking the necessary preparations and we hope that transitions onto the field Saturday."
 
The last time Iowa and Miami (Ohio) kicked-off a season in Kinnick was 13 years ago with the Hawkeyes posting a 21-3 victory and intercepting Redhawks quarterback Ben Roethlisberger four times. Iowa defeated Illinois State in its home opener last season, 31-14.
 
Miami (Ohio) is coming off a two-win season (1-6 in the Mid-American Conference). Three of its losses were by less than a touchdown.
 
"It doesn't matter who we're playing," UI senior defensive tackle Jaleel Johnson said. "After watching tape on these guys, you can tell they are a great team, very physical up front. We'll have to come ready to play."
 
Mabin and fellow senior cornerback Desmond King will see three wide receivers standing 6-foot-4 or taller on the Redhawks two-deep. Sophomore dual-threat quarterback Billy Bahl returns. So does senior defensive end JT Jones, who had 10 sacks last season.
 
"He's going to go out and rush the passer and it's our job to keep (senior quarterback) C.J. (Beathard) clean," Croston said. "(UI junior right tackle) Ike (Boettger) and I are going to do the best of our ability to keep C.J. off the ground."
 
Iowa has won 12 consecutive regular-season games as well as its last two home openers.
 
"I see a talented group on the offensive side," King said of Miami (Ohio). "They have good, tall receivers and a mobile dual-threat quarterback that can step in the pocket and can also use his legs to run."
 
So how do the experienced Hawkeyes feel heading into Saturday?
 
"A little anxiety," Johnson said.
 
"Excitement. We're ready to get out there and be in Kinnick," Mabin said.
 
"If you don't get nervous, there is something wrong with you," Croston said.
 
King is in a unique situation. He could be working up a depth chart in an NFL camp right now, but he hit the pause button on a professional career so he could enjoy a final season as a Hawkeye. It begins Saturday.  
 
"It feels great going into my last season with the Hawkeyes," King said. "We're looking for the best every weekend and we're ready to go."
 
Approximately 4,400 tickets remain for the Iowa-Miami (Ohio) game. They can be purchased by clicking HERE.