Hawkeye Fan Shop — A Black & Gold Store | 24 Hawkeyes to Watch 2016-17 | Hawkeyes in the NFL | Ferentz Trancript in PDF Format
By JAMES ALLAN
hawkeyesports.com
IOWA CITY, Iowa — Desmond King is preparing to see a lot more of Iowa State wide receiver Allen Lazard on Saturday night in Kinnick Stadium.
 
King, a University of Iowa senior defensive back, is expecting to shadow the Cyclones' go-to receiver when Iowa State comes to Iowa City for the annual Iowa Corn Cy-Hawk Series matchup.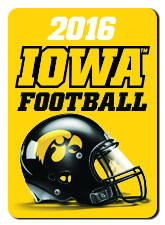 "It will depend on personnel, but if he's in, most likely I'll be guarding him," said King.
 
King is Iowa's right defensive back; senior Greg Mabin lines up opposite. This week the Hawkeyes are more likely to play the matchup game.
 
"We both feel like we have the ability to play either side," said King. "But in our defensive style, we play left and right corner.  We're going to try something new and use match-ups.  We'll see what we can do with that."
 
The move is predicated by getting King, a 2015 consensus All-American and the reigning Jim Thorpe Award winner, in position to lock down Lazard, a preseason first-team All-Big 12 selection and a Biletnikoff Award Watch List honoree. 
 
Lazard opened the 2015 season with six catches for 129 yards and one touchdown in Iowa State's season-opening 25-20 loss to Northern Iowa. He has caught at least one pass in every game of his career and he has three career 100-yard games on his ledger.
 
"He is one of those receivers that will go up and get the ball," said King. "He will get open for his quarterback. It will be a big challenge."
 
It will be the third meeting pitting King against Lazard.
 
In 2014, Lazard made five catches for 53 yards in a 20-17 Iowa State win in Iowa City. It included a 9-yard reception for a first down during the Cyclones' 12-play, 51-yard fourth quarter scoring drive that resulted in Cole Netten's game-winning field goal.
 
Last season, Lazard had seven of Iowa State's 19 receptions for 71 yards, but Iowa posted the 31-17 road win at Jack Trice Stadium.
 
"He made a couple of plays in 2014 that helped them move on and win that game," said King. "Last year he was a pretty good returner (on that team) and we didn't give up much against him. We're looking to do the same this year."
 
Lazard is a big weapon for a big Cyclone receiving corps, standing at 6-foot-5, 223 pound.  Iowa State also has Dondre Daley at 6-2 and Hakeem Butler at 6-6.
 
"They are tall receivers who can run," said King. "We had that challenge last week against Miami (Ohio) and we see what type of abilities tall receivers can do against our corners.  We have to prepare for it and use our correction from last game to move on to this week."
 
Miami (Ohio's) offense finished with 424 yards against Iowa's defense, which included 266 yards through the air.  Nearly half of the passing yardage — 118 yards — came via three plays. 
 
"It wasn't too bad of a game, but I felt we had a couple of things we messed up on," said King. "We had good plays, great plays, and plays that hurt us. Those are things we have to correct this week."
 
King says it is just another game Saturday, but there is a little more to it.
 
"It's a rivalry and trophy game," he said. "That's what makes it more special. It's another chance to keep the trophy here for the next 12 months."
 
The game, which is sold out, will be televised on BTN.  Fans are encouraged to arrive early and anticipate traffic delays.