Hawkeye Fan Shop — A Black & Gold Store | 24 Hawkeyes to Watch 2016-17 | Hawkeyes in the NFL | Video — Coach Ferentz News Conference | Ferentz Transcript in PDF Format
 By DARREN MILLER
hawkeyesports.com
IOWA CITY, Iowa — University of Iowa head football coach Kirk Ferentz held his weekly news conference Tuesday in the Richard O. Jacobson Football Operations Building, four days before his 27th Iowa-Iowa State football game.
 
During his time as an assistant and head coach, Ferentz has seen wins by the underdog, wins by the favorite, wins by the home team, and wins by the visitor. In all of those Iowa Corn Cy-Hawk Series games, Ferentz watched the team that played best that day hoist the traveling trophy into its locker room.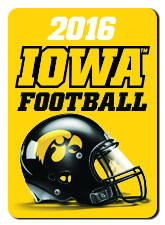 "It's really hard to predict what's going to happen, other than the team that plays the best in the game is usually the one that wins," Ferentz said. "It usually works that way."
 
Iowa enters the game with a 1-0 record and ranked No. 10 by the Amway Coaches Poll and No. 16 by The Associated Press. It is the second consecutive intrastate game for Iowa State, which lost last week to Northern Iowa, 25-20.
 
"I can tell you what it means to so many people in our state," Ferentz said. "If you look at our football team, half our two-deep — I think it's 45, close to 50 percent of our roster — were born and raised here, so they grew up watching this game. I know they appreciate this series and what it means and I know they are excited about having a chance to compete in it, as we are as coaches."
 
Last season Iowa overcame a 17-10 halftime deficit, scored 21 unanswered points in the second half, and won, 31-17, with 475 yards of offense. The Hawkeyes hold a 41-22 advantage in the series that began in 1894 and has been contested every season since 1977. The Hawkeyes have won five of the last eight meetings.
 
Based on recent outcomes, Ferentz expects a close game. In 2011, Iowa State won by three points in triple overtime. In 2012, the Cyclones won by three. In 2013, Iowa won by six. In 2014, Iowa State won by three. Those four games were decided by 3.8 points per game.
 
"It doesn't seem to matter if it's home, what happened the week before, all that stuff," Ferentz said. "What it gets down to is who plays the best on that given day. That's the challenge that's ahead of us right now."
 
Concerning injuries, Ferentz said sophomore wide receiver Jay Scheel is moving closer to being game-ready. He is listed on the two-deep behind sophomore Jerminic Smith, who caught three passes for 51 yards and a touchdown Sept. 3 during a 45-21 victory over Miami (Ohio). Sophomore defensive end Parker Hesse is day-to-day after spending most of Tuesday's practice with the training staff.
 
Another challenge for the Hawkeyes is preparing for a fourth Cyclone head coach in the last 11 seasons. This will be the first Iowa Corn Cy-Hawk Series game for Iowa State head coach Matt Campbell, who coached Toledo to three nine-win seasons in the last four years.
 
"Coach Campbell had great success in his career as a player, assistant coach, and now as a head coach at Toledo and he will do the same at Iowa State," Ferentz said. "They are a well-coached football team.
 
"Second thing that jumped out at me is they really played hard and hustled. We saw some of those attributes with their team Saturday (against Northern Iowa)."
 
Ferentz said he was pleased with Iowa's season-opening win, adding that he thought the Hawkeyes played with good energy and few penalties.
 
"The two biggest takeaways for me Saturday defensively is we can't give up rushing yardage like we did (158 yards on 41 attempts)," Ferentz said. "They came too easy for our opponent, and that's not good. You don't want to let people run the ball at will and they did that too much against us.
"Probably my biggest criticism in the passing game would be we blew a coverage and gave up a big play that could have been avoidable. Those are the things you've got to focus on. Hopefully you see improvement as the season goes on."
 
Kickoff for Iowa-Iowa State is set for 6:42 p.m. (CT) and the sold-out game is televised by BTN.