Hawkeyes in the NFL | Post Game Notes (PDF) | Photo Gallery
By RICK BROWN
hawkeyesports.com
IOWA CITY, Iowa — Matt VandeBerg had the game of his life Saturday night at Kinnick Stadium. And then it got even better.
 
Moments after 10th-ranked Iowa had routed Iowa State, 42-3, the Hawkeyes' senior wide receiver proposed to his girlfriend, Laura Bulanda of Cedar Rapids. Her answer?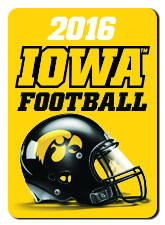 "It was yes," VandeBerg said. "That was amazing. I don't have any other words for it."
 
VandeBerg caught seven passes for a career-high 129 yards and a touchdown as Iowa beat the Cyclones for the ninth time in the last 14 tries. The Hawkeyes take a 14-game regular-season winning streak into next week's game against North Dakota State at Kinnick Stadium.
 
Six of VandeBerg's seven catches were good for 12 yards or more. He also had a 25-yard run on a reverse.
The 12-yarder was a thing of beauty. Senior quarterback C.J. Beathard was flushed from the pocket and threw a perfect strike to the right side of the end zone, where VandeBerg rose up and caught the ball with Iowa State defender D'Andre Payne draped all over him.
 
"I actually checked into that play," Beathard said. "They were blitzing. I got a little pressure off the side so I moved. I tried to give Matt a shot. That's what he does. He makes big plays and he made a big catch in the end zone."
 
VandeBerg's last five catches, and his carry on the reverse, all came on scoring drives. He had a 25-yard catch on the first touchdown drive.  The reverse came on the first play of the drive that ended with his 12-yard touchdown catch. He liked it when Beathard called his number on that reverse.
 
"It's not often I get to run the ball," VandeBerg said. "LeShun (Daniels) put it on a string and it was easy for me to catch. I think C.J. got in someone's way, and then (offensive tackle) Ike (Boettger) did his job on the outside. We had a lot of working parts and it all came together."
 
VandeBerg, who had a career-high nine catches for 114 yards and a touchdown against Iowa State last season, wasn't done. He had a 31-yard catch on the first play of Iowa's fourth touchdown drive in the second quarter.
 
He had two drops on the Hawkeyes' first two drives in the third quarter. The second drop was a pass that hit him in the numbers.
 
"He apologized," Beathard said. "He beats himself up over drops like that, but he made enough plays in the game for that to be OK."
It wasn't OK to VandeBerg.
 
"That's not like me," VandeBerg said. "I don't condone failure or anything like that. The one drop, that's the only thing I can think about at this point. So now I need to fix it to make sure it doesn't happen again."
 
On the drive after that drop, Beathard found VandeBerg for a perfect back-shoulder grab that gained 25 yards on a third-and-3 play from Iowa's own 39. On the very next play, they hooked up for a 15-yard gain.
Plays like that 12-yard touchdown connection and the back-shoulder grabs show that Beathard and VandeBerg play on the same page.
"I think C.J. has great faith in Matt," Iowa head coach Kirk Ferentz said.
 
That faith has been built in offseason pass-and-catch sessions as well as practice. And now in games.
 
"I'm going into my fourth year with him," Beathard said. "He's a smart guy, studies the tape, and knows the defense like I do. He's a guy I can count on. Matt is a great receiver; he goes up and makes plays when they need to be made."
 
VandeBerg, who is from Brandon, South Dakota, is also deceptively quick.
 
"He's faster than people think," Beathard said. "He's a trustworthy guy. He's going to be where he needs to be, when he needs to be there. I can count on him to be there."
 
As soon as the game was over, VandeBerg had one more catch to make. Will you marry me? Laura said yes.
 
"I've known for awhile she was the one," VandeBerg said. "With my dad being in town, he doesn't make it to every game, I wanted him to be able to be there for a special moment like that."
 
Would VandeBerg have proposed if Iowa had lost the game?
 
"I don't have to answer that," VandeBerg said. "I'm just going to focus on what did happen."