Hawkeye Fan Shop — A Black & Gold Store | 24 Hawkeyes to Watch 2016-17 | Hawkeyes in the NFL
By RICK BROWN
hawkeyesports.com
 
IOWA CITY, Iowa — Gary Barta was an option quarterback on North Dakota State football teams that won NCAA Division II national championships in 1983, 1985, and 1986.
 
Iowa's athletic director is proud of that, as well as the fact that his alma mater has won the last five FCS national championships.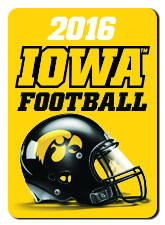 "Unbelieveable," Barta said.
 
The Bison won three of those five national titles with Gene Taylor as the school's athletic director. Taylor became Deputy Director of Athletics at Iowa in June of 2014. Before he left, Taylor got Iowa on the schedule. North Dakota State, the nation's top-ranked FCS team, visits Kinnick Stadium for an 11 a.m. (CT) game against the Hawkeyes on Saturday.
 
Taylor said he used Barta's North Dakota State connection as leverage for scheduling the game.
 
"I told him, 'Look, if you're not going to give a ton of cash personally to your alma mater, at least give us a guarantee check,'" Taylor said.
 
True story, Barta said, with one correction.
 
"For the record, I do contribute (to North Dakota State)," Barta said.
 
So the game was agreed to and a contract signed. On paper this will be the toughest nonconference game on Iowa's 2016 schedule. The Bison have defeated five straight FBS teams – Kansas in 2010, Minnesota in 2011, Colorado State in 2012, Kansas State in 2013, and Iowa State in 2014.
 
"(Iowa) will be the best team North Dakota State has played in regard to Power Five teams," Taylor said.
 
This is a Bison program that has gone 73-5 since 2011. Four of those losses were by a field goal.
 
Barta, in his 11th season as Iowa's leading athletic administrator, has been asked in recent weeks if it will be hard to root against his old school. The answer, in a word, is no.
 
"I'm so proud of my alma mater," Barta said. "But when it comes down to Saturday, there's no question. Obviously I want to beat them, and beat them by as much as we can."
 
Taylor's transition to black and gold is complete, too, but he's still got a lot of connections to the North Dakota State football program. He hired a lot of the coaches on the staff, and knows some juniors and seniors on the team quite well.
 
"It's going to be fun," Taylor said.
 
He'll watch the game from the Iowa sideline, as usual. And he'll have the Tiger Hawk logo on his clothing. But it won't be a normal game for him.
 
"It will be a little different than coming out and seeing a normal visiting team," Taylor said. "There will be a lot of people here that I'll know and see.  They're going to bring a lot of fans. I'm looking forward to the game."
 
Iowa comes into this game riding a 14-game regular-season winning streak. Quarterback C.J. Beathard has won 15 consecutive regular-season starts. And the Hawkeyes have won nine straight games at Kinnick Stadium, their longest streak since rolling off 22 in a row between 2002 and 2005.
 
With the Big Ten moving to nine conference games this season, North Dakota State will be Iowa's final tune-up before the league opener Sept. 24 at Rutgers.
 
It's an old coaching axiom that teams make their most improvement from week one to week two. Iowa did, especially on defense, playing clean and aggressive in a 42-3 dismantling of Iowa State last week. It will take more of the same against a North Dakota State team that won't be intimidated coming to Kinnick Stadium.