Hawkeye Fan Shop — A Black & Gold Store | 24 Hawkeyes to Watch 2016-17 | Hawkeyes in the NFL | Hawk Talk Monthly — September 2016 | Photo Gallery
Editor's Note: The following first appeared in the University of Iowa's Hawk Talk Daily, an e-newsletter that offers a daily look at the Iowa Hawkeyes, delivered free each morning to thousands of fans of the Hawkeyes worldwide. To receive daily news from the Iowa Hawkeyes, sign up HERE.
By DARREN MILLER
hawkeyesports.com
IOWA CITY, Iowa — Complementary, team football.
 
The University of Iowa might not have shown that for 60 minutes in its first trip to the birthplace of college football yesterday, but when it mattered most, the Hawkeyes rose to the occasion and defeated Rutgers, 14-7, at High Point Solutions Stadium.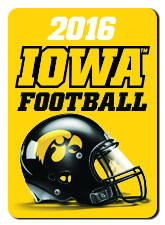 It is Iowa's seventh consecutive road victory and its sixth straight in the Big Ten Conference.
 
UI head coach Kirk Ferentz was pleased with the fight he saw at the end of both halves. In the second quarter, Iowa turned a goal-line stand into a 99-yard scoring drive; in the fourth quarter, the Hawkeyes scored one play after sophomore free safety Brandon Snyder forced a fumble for the game's lone turnover.
 
"That was an excellent effort by our guys, digging in there and getting the ball back (at the 1)," Ferentz said. "Then for the offense to respond, that was good team football and we haven't played enough of that good team, complementary-type football."
 
Rutgers entered the Big Ten opener for both schools a perfect 8-for-8 in red zone scoring opportunities. They were 1-for-4 on Saturday.
 
"To take the ball and drive it and push it down there and get a score is great, same thing in the second half," Ferentz said. "We create a turnover in their end and then capitalize. Those are the things we have to build on. When we do those things we are capable of being a good football team."
 
After the goal line stand with 2:04 left in a scoreless first half, the Iowa offense put together an eight-play, 99-yard drive featuring gains of 13, 20, and 12 yards. The touchdown was a 36-yard pass from C.J. Beathard to tight end George Kittle with 34 seconds on the clock.
 
"We know we have a great defense behind us, but we have to get it going offensively and help our defense more than we did today," Beathard said. "Any 99 yard drive — especially right before half — we know it's not easy to do, but we gutted it out and were able to put a drive together, which was big."
 
With the game tied, 7-7, and less than nine minutes to play, Snyder and New Jersey native Akrum Wadley displayed more complementary, team football. On third-and-16 from their own 24, Rutgers quarterback Chris Laviano completed a pass to Andre Patton. But Snyder closed quickly and caused a takeaway.
 
"(Patton) ran an underneath route and I cut it on the backside," Snyder said. "I didn't know whether to make a play on the ball right away and ended up tackling him and tried to work the ball out. It popped out and I jumped on it right away.
 
"We needed a spark and it gave us a little bit and the offense capitalized."
 
On Iowa's next play, Wadley took a handoff, ran left, tip-toed down the visiting sideline and picked up 26 of his team-high 84 rushing yards. It was his fourth rushing touchdown in four games.
 
Iowa was out-gained, 383-355. Rutgers completed a 76-yard pass (leading to the goal line stand), while four Scarlet Knight ball carriers had gains of 12-or-more yards.
 
"We gave up some explosive plays and ended up with our backs against the wall," Snyder said. "The good thing is, we didn't give up and we didn't give up points; our best players found ways to make plays. Josey (Jewell) found the ball, Desmond (King) made a play. We needed guys to step up and make plays and they did."
 
Snyder had a career-high 13 tackles and three of Jewell's 12 tackles came on the goal line stand.
 
"You either get them now or they're going in," Jewell said of his goal line mentality. "There were one or two yards there, so they can't gain anything and we knew that; we had to be aggressive there."
 
Iowa improved to 3-1 overall, 1-0 in the conference. It marks the fifth straight season that the Hawkeyes have opened league play with a victory. Iowa hosts Northwestern for Homecoming on Oct. 1. Tickets remain and can be purchased HERE.