Hawkeye Fan Shop — A Black & Gold Store | 24 Hawkeyes to Watch 2016-17 | Hawkeyes in the NFL | Buy Northwestern Tickets | Transcript in PDF Format
By DARREN MILLER
hawkeyesports.com
IOWA CITY, Iowa — Kirk Ferentz confessed Tuesday that his University of Iowa football teams are typically neither smooth nor crisp in the month of September.
 
The next game for the Hawkeyes is Oct. 1.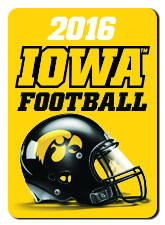 That is encouraging news since Iowa is 3-1 in September games this season and in the last four seasons, the Hawkeyes have gone 14-2 in the month of September with 4-0 marks in 2013 and 2015.
 
"We're trying to build a team," Ferentz said Tuesday at his weekly news conference in the Stew and LeNore Hansen Football Performance Center. "We've gone through a lot of things historically where the one commonality is we have never been a smooth, crisp team in September."
 
In the last decade of Septembers, the Hawkeyes have won 31 of 42 games for a winning percentage of 73.8.
 
"I think October is coming, so it will be a good time to get in that gear," Ferentz said.
 
Up next for Iowa is a Homecoming tilt against Northwestern on Saturday beginning at 11:01 a.m. (CT). The Wildcats won 10 games a year ago and played in the Outback Bowl. They are off to a 1-3 start with a Big Ten-opening 24-13 loss to Nebraska a week ago. It is the first road game of the season for Northwestern.
 
"You look back over the series the last 15 games and it has pretty much been down the middle and home field really doesn't matter," Ferentz said. "It comes down to the best team, the team that plays the best that given day. That's the challenge that's in front of us right now."
 
The Hawkeyes have won three games in a row in the series, including 48-7 in 2014 and 40-10 in 2015. Iowa won 17-10 in overtime in 2013, but from 2005-12, Northwestern won six of eight.
 
"We're playing a team that has an established, successful program and they have a lot of good players back from last year and a coaching staff that has been in place for a long time," Ferentz said. "They have an identity. They know what they want to be, what they want to do, and they do it well. Their guys are well-coached and play hard."
 
Iowa's leading receiver last season at Northwestern was Matt VandeBerg with eight receptions for 78 yards. He suffered a broken foot Monday in practice and will miss several weeks. VandeBerg is the Hawkeyes' leading receiver this season with 19 catches, 284 yards, and three touchdowns.
 
"Anytime there's an injury, it affects that individual the most, and that's first and foremost in our minds," Ferentz said. "As we all know, it's part of football, so it provides opportunity for other players, and they're going to have to step up and get the job done for us, and I'm sure they will."
 
Ironically, it adds to the intrigue of the predictably unpredictable series between Iowa and the Wildcats. The Hawkeyes entered the 2015 contest without offensive line starters Ike Boettger and Boone Myers, running back LeShun Daniels, Jr., and defensive end Drew Ott. Then, leading rusher Jordan Canzeri was injured early in the game.
 
Who would have predicted Iowa would win by 30 points over a 10-win team?
 
"That was probably the highlight of the year because that's when things were kind of hitting it pretty good," Ferentz said. "That's one thing I'll always remember about last year's football team is typically when you have a really good season, things go pretty cleanly on the injury front, and last year that was hardly the case. Jordan Canzeri getting injured during the game was kind of a showcase example of that."
 
The Iowa-Northwestern game will be televised by ESPNU. Tickets still remain and may be purchased by clicking HERE.