Hawkeye Fan Shop — A Black & Gold Store | 24 Hawkeyes to Watch 2016-17 | Hawk Talk Monthly — September 2016
Editor's Note: The following first appeared in the University of Iowa's Hawk Talk Daily, an e-newsletter that offers a daily look at the Iowa Hawkeyes, delivered free each morning to thousands of fans of the Hawkeyes worldwide. To receive daily news from the Iowa Hawkeyes, sign up HERE.
By RICK BROWN
hawkeyesports.com
IOWA CITY, Iowa — Raymond Knoll and the University of Iowa men's golf team are looking for a little déjà vu at Spirit Hollow this weekend.
 
Iowa hosts the eighth annual Golfweek Conference Challenge in Burlington, Iowa. The Hawkeyes are the defending champions, and Knoll was co-medalist last year with a school-record 54-hole performance.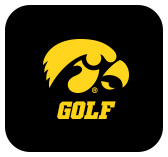 "Spirit Hollow is a golf course the guys enjoy playing," Iowa head coach Tyler Stith said. "They feel comfortable there. Ray's score last year was the best in school history. Every year is going to be a little different. The course will be set up different, and the playing conditions will be different, but I know it's a place everyone enjoys playing, and we anticipate being in contention on Sunday."
 
The 54-hole championship starts Friday and runs through Sunday, with 12 teams from 12 different conferences teeing it up.  Eight of the 12 teams earned NCAA Regional bids in May.  Texas A&M, Kansas, and Iowa are among the teams to beat.
 
Also in the field are Charleston Southern, Lipscomb, James Madison, Idaho, McNeese State, Miami (Ohio), San Jose State, UMKC, and Southern Illinois.
 
"We have another strong field this year," Stith said. "It's a chance for us to showcase one of the best courses in Iowa. I know the guys are up for the challenge."
 
Knoll shared medalist honors a year ago with Kansas State's Jeremy Gandon at 11-under-par 205.
 
 "The key there is getting the ball in the fairway," said Knoll, a senior and All-Big Ten performer from Naperville, Illinois. "There's a lot of trouble visually out there, and there are a lot of things that can go wrong.  But if you're able to block all that out and focus on how big the fairways are, the course becomes very accessible."
 
Knoll said his play at Spirit Hollow a year ago was one of the best efforts of his competitive career.  He was paired with reigning U.S. Amateur and NCAA champion Bryson DeChambeau of SMU in the first round and shot 66. Knoll followed that up with a 67 to get it to -11, then posted an even-par 72 the final round.
 
"It would have been nice to get my score a little lower (the final round), for personal reasons," Knoll said. "In terms of the best I've ever played, I'd put it up there for sure, given the competition and all that."
 
This fall, Knoll was fourth at the Gopher Invitational, hosted by Minnesota, then tied for 18th this past weekend at the Windom Memorial, hosted by Northwestern. Knoll said ball-striking is the strength of his game, but improved putting has paid off this fall.
 
"The one thing I'm most proud of so far this year has been my putting," Knoll said. "I've struggled a lot in the past with my putting. But this summer I put in a lot of work on the putting green trying to figure everything out and get the kinks out of my stroke. This year, my putting has been solid. I've been able to combine that with my ball-striking and been able to finish pretty low the first two tournaments."
 
Stith is still tinkering with one spot in his lineup for this weekend, but the top four players are solid. Knoll will be joined by fellow senior and All-Big Ten performer Carson Schaake, sophomore Matthew Walker, and junior Sam Meuret.
 
Walker, from Ottumwa, Iowa, tied for eighth at the Gopher Invitational and tied for seventh at the Windom Memorial. Stith said that Walker has benefitted from the senior leadership provided by Knoll and Schaake.
 
"When Matthew arrived he really looked up to these guys," Stith said. "He has followed them around, listened to them, and asked questions. I think more than anything, he wanted to beat them. He looks up to them like big brothers, but he knows he can play with them and beat them. He wants to be an All-American, which shows he is a competitive kid.
 
"Carson and Ray have been good role models for him and have helped him become a better player."
 
Knoll and Walker are close friends, and roomed together at the Windom Memorial.
 
"It's hard to help someone like that because he's so confident and comfortable on a golf course," Knoll said. "He sticks to his game plan, and is able to go out and play well pretty much every time we're on the course."
 
They spent a lot of time last weekend discussing the sport they share a passion for.
 
"Listening to him talk about golf is always interesting, just because he makes everything sound so simple," Knoll said. "Being a senior, I feel like I'm experienced. I feel like I've been through a lot, but I still tend to overcomplicate things.
 
"It's always fun hearing someone who is so comfortable with their game and how they approach the course, and how simple everything seems. He has a bright future."
 
Stith likes the depth on his team, and is looking for a big weekend at Spirit Hollow.
 
"I feel confident with our guys right now," Stith said. "We've had a lot of competition throughout the team, and we're deeper than we've been in years past. I'm looking forward to this weekend."