Hawkeye Fan Shop — A Black & Gold Store | 24 Hawkeyes to Watch 2016-17 | Hawkeyes in the NFL | Hawk Talk Monthly — September | Photo Gallery
By RICK BROWN
hawkeyesports.com
IOWA CITY, Iowa — When leading receiver Matt VandeBerg broke his foot in practice Monday, someone else had to step up for the University of Iowa football team.
 
That's just what fifth-year senior Riley McCarron did. Unfortunately, it came in a loss.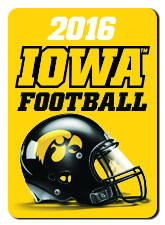 "It doesn't matter if you have a good game as an individual or a bad game as an individual, a loss is a loss," McCarron said after Saturday's 38-31 Big Ten Homecoming loss to Northwestern at Kinnick Stadium. "It feels the same. It hurts. This team is capable of so much more. We just need to start showing it on Saturday."
 
VandeBerg had 19 catches for 284 yards and three touchdowns in the Hawkeyes' first four games.  
 
McCarron filled some of that void against the Wildcats. He had a career-best eight catches for 78 yards and a touchdown — two more catches and three more yards than he had over the first four games.
 
"Obviously (VandeBerg) is a great player," McCarron said. "Big shoes to fill. I'm just trying to do the best I can."
 
McCarron finished the game with 170 all-purpose yards. He returned one punt for 38 yards and a kickoff for 54 yards.
 
"He did a good job last year for us as a reserve receiver," UI head coach Kirk Ferentz said. "He also played special teams in a real quiet way, but he did a great job. With Matt out now, he has to take a bigger role offensively. He improved during spring ball, had a good camp, so with every phase he has taken positive steps."
 
McCarron's 15-yard touchdown catch gave Iowa its first lead of the game, 21-17, with just under three minutes remaining in the first half. It came on a third-and-10 play. Senior quarterback C.J. Beathard threw the ball to the left corner of the end zone before McCarron made his cut.
 
"C.J. threw an outstanding pass," McCarron said. "It was well-executed. I just turned and the ball was already in the air."
 
McCarron joined the Iowa program as a walk-on out of Dubuque Wahlert High School. He redshirted in 2013 and saw limited duty as a redshirt freshman, playing in 12 games, mostly on special teams.
He missed the first three games of his sophomore season after being injured in the annual Kid's Day scrimmage and an illness kept him out of the final three games.
McCarron played in all 14 games last season. The biggest of his five receptions came on a 25-yard touchdown grab at Iowa State that broke a tie game with 2:14 to go.
 
McCarron has become more of an option for Beathard this season. His play in VandeBerg's absence didn't surprise the quarterback Saturday.
 
"Riley has been in the program for five years," Beathard said. "I've been throwing to him for five years. I didn't expect anything less from Riley. He did a god job."
 
Saturday's loss was fueled by inconsistency on both sides of the ball, something the Hawkeyes need to change starting next week at Minnesota.
 
"We need to play with more consistency," McCarron said. "There are flashes when we do well on both sides of the ball and on special teams. We need to start doing it on every drive. Not every other one or every third one. We have to execute the plays we're capable of executing."
 
Ferentz thinks McCarron's effort on the field would be a good thing to emulate.
 
"Somehow we're going to have to try and keep him a little bit more fresh because he got worn out (Saturday)," Ferentz said. "He is a heck of football player, with a great attitude. Everybody needs to follow his lead because he's on the right track."
 
McCarron said the Hawkeyes need to keep grinding and keep pushing to play at the level they're capable of.
 
"I think (Saturday's loss) is going to be a gut check," McCarron said.