Hawkeye Fan Shop — A Black & Gold Store | 24 Hawkeyes to Watch 2016-17 | Hawkeyes in the NFL | Hawk Talk Monthly — September 2016 | Buy Tickets | VIDEO — Sunday Conversation
By DARREN MILLER
hawkeyesports.com
 
IOWA CITY, Iowa — Winning close games and road games are critical to a football teams' success. Last season the University of Iowa was 5-0 in road games and 3-1 in games decided by seven points or less.
 
So far in 2016, the Hawkeyes have continued to excel on the road with a 14-7 win at Rutgers on Sept. 24. But they are 1-2 in games decided by a touchdown or less.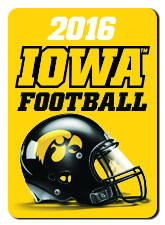 "Close games are critical and for us to be successful, we have to be able to do a good job in those," UI head coach Kirk Ferentz said Sunday in an exclusive interview with hawkeyesports.com. "It gets down to being a little better on detail items — not having any self-inflicted wounds.
 
"Going back to yesterday, one thing that was of concern was the penalty situation. We had three on defense and they were all major penalties and we have had more than our share offensively. How they impact the game is something we try to make sure our players realize; we need to clean that up."
 
Iowa (3-2 overall, 1-1 Big Ten) is coming off a 38-31 loss to Northwestern on Oct. 1 in Kinnick Stadium. Iowa was flagged six times for 70 yards; Northwestern was penalized once for five yards. It is the most penalty yardage allowed by the Hawkeyes since giving up 80 last season at Illinois.
 
The Wildcats gained 362 yards with 198 coming on the ground.
 
"Any time you're in a new season, you're getting a feel for things," Ferentz said. "If we're going to see the improvement we want to see, we're going to have to do better job of the basics. Doing a better job setting edges and making sure someone is always in contain. On top of that, we have to tackle better — that comes from hard work, better practice, better preparation, and hopefully we can get that down. If we can make those improvements, I think we'll see dramatic production in terms of run defense."
 
Iowa has won seven straight road games dating back to Nov. 8, 2014 — a 51-14 loss at Minnesota. The Hawkeyes take on the Golden Gophers (3-1, 0-1) on Oct. 8 beginning at 11 a.m. (CT) with the traveling trophy Floyd of Rosedale at stake. Iowa has also won five straight trophy games.
 
"Trophy games are always big for us and I know they are for our opponents, too," Ferentz said. "We're 1-0 this year and we did a good job last year, so hopefully we can build on that. That won't come easy, we have to earn that and that's the way it is in a trophy game. Playing on the road, same thing. We did a great job of that last year and we're 1-0 right now in that column as well."
 
Iowa's successful streak on the road includes victories at Illinois (30-14), Iowa State (31-17), Wisconsin (10-6), Northwestern (40-10), Indiana (35-27), Nebraska (28-20), and Rutgers (14-7).
 
"If you want to have a good season, you have to be able to handle the different environments in the Big Ten when you travel," Ferentz said. "That's part of the deal and we have to rise to that challenge.
 
"The biggest thing we can do to feel confident going on the trip Friday is having a great week of preparation and a great week of practice so we can play a cleaner game and hopefully get a better outcome."
The Hawkeys are in "pretty good shape" health-wise. Ferentz said that like most times when you get this far into a season, there are 6-8 players that are "a little sore."
"Hopefully by midweek we'll have all those guys back and ready to go," Ferentz said.