Hawkeye Fan Shop — A Black & Gold Store | 24 Hawkeyes to Watch 2016-17 | Hawkeyes in the NBA | Hawk Talk Monthly — September
Editor's Note: The following first appeared in the University of Iowa's Hawk Talk Daily, an e-newsletter that offers a daily look at the Iowa Hawkeyes, delivered free each morning to thousands of fans of the Hawkeyes worldwide. To receive daily news from the Iowa Hawkeyes, sign up HERE.
By JAMES ALLAN
hawkeyesports.com
IOWA CITY, Iowa — Peter Jok is ready to lead the University of Iowa men's basketball program. 
 
Since joining the Hawkeyes in 2013, Jok has watched different leaders emerge.  As a freshman it was Roy Devyn Marble, then Aaron White, and last season the quartet of seniors Jarrod Uthoff, Anthony Clemmons, Mike Gesell, and Adam Woodbury.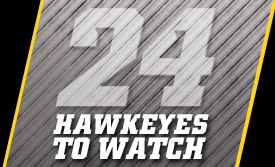 Now it's Jok's turn.
 
He is one of two seniors on a Hawkeye roster that includes 11 underclassmen.
 
"Pete had great examples and that's why I am comfortable saying this is his team," said UI head coach Fran McCaffery. "There is no question about that. He was one of the best players in the league and country last year after establishing himself as an elite player during his sophomore year.
 
"I have watched him grow in his preparation and work ethic. He works so hard in the offseason and has been a great example for these young kids. He's a guy that will be a tremendous leader."
 
Jok saw the way Marble led by example during his freshman season. He watched how White carried himself in 2014-15. Last year, it was a collection of personalities among the senior class, and they all contributed to Jok's leadership.
 
"I have never been in the spot I am now," said Jok. "This year is going to be a different task for me, but I am ready for it."
"I want him to lead the Big Ten in scoring and we're going to get him a ton of shots. I want him to have the green light and play with a free and clear mind with incredible confidence. I think he's going to have a fabulous year and end up being an NBA first-round draft choice." — Fran McCaffery
 
Jok's growth off the court has matched his ascension on the court.  After joining the Hawkeyes as a Parade All-American out of West Des Moines Valley (Iowa) High School, Jok played in 27 games as a freshman, averaging 4.4 points and 0.9 rebounds in 9.4 minutes.
 
It was during the final game of his rookie season where McCaffery saw a glimpse of Jok's potential. He joined Kenyon Murray as the only Iowa freshmen to scored 10-or-more points in an NCAA Tournament game when he made 4-of-5 field goals, including two 3-pointers, against Tennessee.
 
"We saw the talent his freshman year," said McCaffery. "Especially that last game; that was a foreshadowing of what was to come."
 
Jok's rise continued as a sophomore when he averaged seven points and reached double figures in scoring 11 times.  His coming out party was during his junior year.
 
Jok established himself as one of the top players in the star-studded Big Ten Conference.  He earned second-team All-Big Ten and all-district honors and was Iowa's Most Improved Player.  He averaged 16.1 points, had 40 steals, and shot 43.1 percent from the field and 40.2 percent from 3-point range.  He made 80 3-pointers.
 
"I got in better shape," said Jok, who's junior scoring average was the highest by a non-Iowa senior since Chris Kingsbury's 16.7 points in 1995. "I got comfortable and started playing at my own pace and I didn't let the defense rush me.  I had a great team, too. My teammates were finding me when I was hot and we played great as a team."
 
Jok reached the 20-point mark in 11 games, including going for a career-high 29 points in games at Rutgers and against Illinois. He reached double figures in all but six games on the year, and at season's end he was one of the top 30 collegiate players invited to participate in the 2016 Nike Basketball Academy.
 
Jok's junior-year production came in a complementary role to Uthoff — a consensus All-American. He knows that's about to change.
 
"Last year I wasn't the go-to guy," said Jok, who is the second-leading returning scorer in the Big Ten Conference behind Illinois' Malcolm Hill's 18.1 points per game. "Most of the time it was Jarrod; this year it's my team. Coach is going to go to me, so I have to step up."
 
Jok is going to be a marked man. He'll be the focal point of every scouting report and will face every type of junk defense thrown his way, but he doesn't care.
 
"I am going to go out, play my game, and do what I do," he said. "I am not going to force it. If they're playing great defense on me, there are newcomers and guys coming back that have been working hard this summer.
 
"We're going to have guys step up when the season starts, it's not going to be all me.  I am not trying to put a lot of pressure on me or prepare myself for being the marked guy.  I am going to go out to play my game, and some other guys will be there to help me, too."
 
That's team-leader talk.
 
It's talk from a player that has helped Iowa win 64 games and play in three consecutive NCAA Tournaments.  For the Hawkeyes to make it four in a row, McCaffery needs Jok to be a consistent worker and lead.
 
"I want him to lead the Big Ten in scoring and we're going to get him a ton of shots," said McCaffery. "I want him to have the green light and play with a free and clear mind with incredible confidence.
 
"I think he's going to have a fabulous year and end up being an NBA first-round draft choice."