Hawkeye Fan Shop — A Black & Gold Store | 24 Hawkeyes to Watch 2016-17 | Hawkeyes in the NBA | Hawk Talk Monthly — September | Media Day Photo Gallery | Media Day Transcript (PDF)
By RICK BROWN
hawkeyesports.com
IOWA CITY, Iowa — Tyler Cook launched hundreds of jump shots each day this summer.
 
"From everywhere on the court," Cook said. "Repetition gets you better. It was my main focus coming into the summer time. It is, even now. I'm just trying to make myself as un-guardable as possible."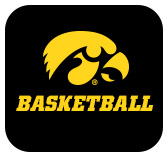 A 6-foot, 9-inch, 253-pound freshman from Chaminade Prep in St. Louis, Cook comes to Iowa as a top 100 recruit nationally. His thirst to get better is reflected in his desire to become a better shooter. A prototype power forward acting like a guard who heads into his rookie season with promise and potential.
 
During Iowa's annual men's basketball media day at Carver-Hawkeye Arena Wednesday, Iowa head coach Fran McCaffery gave his unvarnished opinion of Cook.
 
"I think he's capable of being a star, I really do," said McCaffery, starting his seventh season at Iowa. "You guys who have been around me know I say what I think, typically. So it's not like let's go easy and not push him. I've got a responsibility to be honest. I think he's an impact player, certainly on our team, in our league, and on a national level. He's that good."
 
If Cook feels pressure from McCaffery's strong words, he certainly didn't show it Wednesday.
 
"Coach McCaffery has big expectations for me," Cook said. "But the expectations I have for myself are even bigger."
 
Cook committed to Iowa on Sept. 23, 2015, his 18th birthday and a week after making his official campus visit to Iowa City. He picked the Hawkeyes over Florida, and also had offers from schools like Kansas, Missouri, Iowa State, Arkansas, Michigan and Purdue. 
"He competes, plays hard, can dribble, pass, and shoot. He dunks it any which way. He has the perfect attitude you want from a young guy. He doesn't play with any level of cockiness at all. He just competes; he wants to be great." — Fran McCaffery
 
When McCaffery and assistant coach Sherman Dillard, the lead recruiter on Cook, made a home visit on the night of Sept. 23, Cook accepted their scholarship offer. And then a Hawkeye-themed birthday cake was brought out.
 
"After I visited Florida, and then visited Iowa, I knew what I wanted to do," Cook said. "My birthday was the next week, so my mom said, "Just do it (commit) on your birthday."
 
Cook signed a National Letter of Intent last November, and now brings excitement to a program that lost 392 starts with the departure of seniors Jarrod Uthoff, Adam Woodbury, Mike Gesell, and Anthony Clemmons.
 
"He competes, plays hard, can dribble, pass, and shoot," McCaffery said. "He dunks it any which way. He has the perfect attitude you want from a young guy. He doesn't play with any level of cockiness at all. He just competes; he wants to be great."
 
Cook might have found McCaffery's words unbelieveable when he was a pudgy, 6-2 seventh grader. That's when Darryl Lenard came into his life.
 
"He has been my trainer since seventh grade," Cook said. "He would come to my house, drag me out of there, and take me to the gym. We would work all day and all night. What he has done for me is something I can't even put into words. I appreciate everything he did with me. He's a big reason I'm here now."
 
Cook was cut from his AAU team as an eighth grader. But Lenard, who is affiliated with the St. Louis Eagles AAU program, found a team for Cook to play on. Cook ended up playing his AAU ball for the Eagles as he dropped weight and improved his basketball skills.
 
That pudgy kid now has a versatile game that will see him play several positions and fill several roles for the Hawkeyes.
 
"He'll line up in a forward position," McCaffery said. "You'll see him bring it down the floor, post up, shoot 3s, attack the rim, and play ball screen action. That's what I told him when we recruited him. The key for us and him is going to be to make sure that while he is dribbling the ball and shooting 3s, he still gets after it on the glass and is around 10 rebounds a game, which is not easy."
 
Asked which position is his favorite on the floor, Cook said he couldn't answer.
 
"Really, whatever spot on the floor that's open is where I'm going to attack from," Cook said. "I have no hesitation shooting from anywhere on the floor. Going to the basket is probably what I'm strongest at, just because of my physical abilities. I'm comfortable anywhere."
 
Cook said that McCaffery has given him the green light on the floor. No restrictions.
 
"I've got to take that with a grain of salt, and not try to go crazy or anything like that," Cook said. "I've got to understand my limitations, what I can and can't do on the court. Making sure I know when and where to attack is the important thing."
 
 Iowa hosts Regis University in an exhibition game Nov. 4 at 7 p.m. inside Carver-Hawkeye Arena.  The Hawkeyes' regular-season opener is against Kennesaw State on Nov. 11.  Season tickets are on sale by contacting the UI Athletics Ticket Office.