Hawkeye Fan Shop — A Black & Gold Store | 24 Hawkeyes to Watch 2016-17 | Hawkeyes in the NBA | Hawk Talk Monthly — September
Editor's Note: The following first appeared in the University of Iowa's Hawk Talk Daily, an e-newsletter that offers a daily look at the Iowa Hawkeyes, delivered free each morning to thousands of fans of the Hawkeyes worldwide. To receive daily news from the Iowa Hawkeyes, sign up HERE.
By RICK BROWN
hawkeyesports.com
IOWA CITY, Iowa — It's easy to look at University of Iowa's 2016-17 men's basketball team in the past tense. Dom Uhl would rather keep things in the present.
  
"Guys leave every year," said Uhl, the Hawkeyes' sixth man last season. "People have to accept bigger roles. That's what we want to try and do."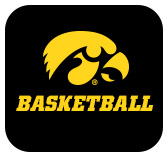 Gone from last season's NCAA Tournament team are four players who started every game in 2015-16 – Jarrod Uthoff, Adam Woodbury, Mike Gesell and Anthony Clemmons. Gone, too, are 57.9 percent of the scoring and 54.8 percent of the rebounding.
 
The lone returning starter is senior guard Peter Jok, the No. 2 scorer at 16.1 points a game. Ten of the 13 scholarship players on the roster are freshmen or sophomores. The lone exceptions are Jok, senior Dale Jones and Uhl, who averaged six points and 3.7 rebounds off the bench last season.
 
"We have a lot of young guys who are great players and versatile," said Uhl, a 6-foot 9-inch junior from Frankfurt, Germany. "I think we might be better than people expect us to be."
 
Uhl is one of the players who must take a step up for that to happen.
 
"That's a fair statement, and I think he understands that," said UI head coach Fran McCaffery. "I also think sometimes you need consistent play and time to play the consistent way that you're talking about. If you think about the last two years, while he was an integral part of everything we did, some games he would play 26 minutes, sometimes 18, sometimes nine, and that's not easy."
 
That fluctuation in minutes had more to do with matchups and foul trouble for the starters than it did with Uhl's level of play.
 
"Sometimes you wonder what you did wrong," Uhl said. "But you have to stay with it, and stay positive. Now I'm going to have a bigger role, and that's going to help me. I'm going to try and be more consistent."
 
Uhl had some bright moments last season, scoring in double figures seven times and recording his first career double-double (14 points, 10 rebounds) against UMKC. He also had a big game in Iowa's first victory at Michigan State since 1993, scoring 10 points and adding five rebounds.
 
Uhl's next challenge is to string together more quality games.
 
"This is my third year, so I'm a leader now," Uhl said. "I have to step it up."
 
Jok predicts that Uhl will do just that.
 
"I'd say he and Nicholas Baer are the most improved players on the team," Jok said. "I think he's up to the task to step it up this year."
 
McCaffery has been pleased with the progress Uhl has made since he joined the program.
 
"I've been impressed with his growth, both in terms of his game and his strength and conditioning," McCaffery said. "What you're seeing now is a guy that is doing all the things well that we've seen him do well, but he's finishing and rebounding better. He's much more physical with his game, yet he's still versatile off the dribble. I'm excited about him."
 
Iowa signed Uhl out of Point Pleasant Beach High School in New Jersey, where he played two seasons after leaving his native Germany in search of a basketball opportunity in the United States. Uhl selected the Hawkeyes over Boston College and Temple.
 
Every August, Uhl returns home to Germany for two weeks. It's the only time he gets home all year. His friends keep up with him by following his Instagram account. After the victory at Michigan State last season, one former teammate told him he had watched the game on television back in Germany.
 
"They definitely support me," Uhl said.
 
Sometimes, Uhl reflects on his worldly journey from Frankfurt to New Jersey to Iowa.
 
"I think about it all the time," he said. "I think, 'What if I didn't come over here (to the United States)?' I don't know what I'd be doing now."
 
But here he is, poised to step up with extended minutes and be one of the Hawkeyes' go-to guys.
 
"I want to see improvement," Uhl said. "I want to be more consistent with my shooting, defense, rebounding, and not have too many bad games."
 
McCaffery likes to recruit versatile players, and Uhl fits that mold. He played on the perimeter as a freshman, and moved inside for most of his minutes last season.
 
"I'm comfortable at both spots," Uhl said.
 
This season, his opportunity to shine covers the entire floor.
 
"I'll play wherever coach wants me to play," Uhl said.