Hawkeye Fan Shop — A Black & Gold Store | 24 Hawkeyes to Watch 2016-17 | Hawkeyes in the NFL | Hawk Talk Monthly — Oct. 2016 | Buy Tickets | Ferentz Transcript in PDF Format
By JAMES ALLAN
hawkeyesports.com
IOWA CITY, Iowa — Purdue "out-statisticed" the University of Iowa football team last season in Kinnick Stadium.
 
The Boilermakers had 405 yards of total offense and nearly a six-minute advantage in time of possession, but the Hawkeyes won on the scoreboard, 40-20. Purdue has 19 starters returning in 2016 and UI head coach Kirk Ferentz knows the Hawkeyes will again be in for a fight.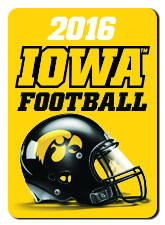 Iowa, 4-2 overall and 2-1 in Big Ten Conference action, squares off against Purdue (3-2, 1-1) at Ross-Ade Stadium in West Lafayette, Indiana, on Saturday.  The game is scheduled to begin at 11 a.m. (CT) and be televised on ESPN2.
 
"We had a tough game with them last year and we're expecting the same again this year," Ferentz said during a Tuesday news conference in the Stew and LeNore Hansen Football Performance Center. 
 
Ferentz was impressed with Purdue's character during its Oct. 8, 34-31, overtime victory at Illinois. It was another indicator that the Boilermakers are on the right path under head coach Darrell Hazell.
 
"They showed a lot of character in that win," said Ferentz. "There were a lot of close calls during the course of that game; they stayed the course and got the job done in overtime. They deserve a lot of credit.
 
"They have improved every year and I felt that coming out of our game last year.  These guys are capable of playing good football, so we have to be ready.  On top of that it's a road challenge.  We have our hands full right now to have a good week and look forward to Saturday."
 
The Boilermakers average 429.2 yards of total offense with quarterback David Blough passing for 1,298 yards with seven touchdowns.  The team averages 154.2 rushing yards with Markell Jones being its leading rusher at 84.8 yards per game.
 
Defensively, Purdue surrenders 31.4 points and 431.6 yards per game with its opposition averaging nearly 250 yards on the ground.
 
That bodes well for a Hawkeye offense that Ferentz says took a step forward in a 14-7 road victory at Minnesota — the program's eight straight road triumph.  Iowa rushed for 179 yards and passed for 142 yards to keep Floyd of Rosedale for another calendar year.
 
"It may not have looked like it to you (media), but we made strides from the field Saturday," said Ferentz. "Then watching the film, there were a lot of things that were encouraging. You don't always have those breakthrough moments, but if you make incremental gains, at some point, it starts looking better than it did."
 
Ferentz says the Hawkeyes need to build off Saturday's performance… and quickly.
 
"The clock is running," he said. "We're running a tight race.  We only have six weeks left, so we're pushing as fast and hard as we can."
 
Ferentz acknowledged that senior Desmond King would probably be a pretty good wide receiver option, but it's a lot easier said than done in transitioning his All-America defensive back to the offensive side of the ball.
 
"He's working hard on defense and that's an important position," said Ferentz. "You think how many yards he ran in the Northwestern game, what kind of energy and effort that took, and on top that, he has done a good job in the return game.
 
"We could do it, but you're robbing one to (help the other) … there are only so many snaps a guy can play."
 
On the health front, Ferentz said the Hawkeyes are in good shape heading to West Lafayette. A few guys are "aching" but should be good to go Saturday when the team aims for its fifth victory of the season.