Hawkeye Fan Shop — A Black & Gold Store | 24 Hawkeyes to Watch 2016-17 | Hawkeyes in the NBA | Hawk Talk Monthly — September | 2016 B1G Men's Basketball Media Day Photo Gallery | McCaffery B1G Media Day Transcript
By JAMES ALLAN
hawkeyesports.com
WASHINGTON — There is youth on the 2016-17 University of Iowa men's basketball team, but there is also a staggering level of confidence.
 
"We have a confident group for being so young," UI head coach Fran McCaffery said during a Thursday news conference at the 2016 Big Ten Men's Basketball Media Day.  "The critical thing is going to be as you go through the journey — we know it's a difficult journey — can we sustain that when we have bumps in the road?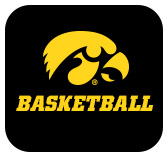 "That's where leadership comes in."
 
Senior Peter Jok, one of 10 players named to the Big Ten Preseason All-Big Ten team, is the team's best player and unquestioned leader. Along with Jok, it's going to be a combination of all the other parts — the Tyler Cooks, Dom Uhls, Jordan Bohannons, Dale Jones', and Ahmad Wagners.
 
"We have enough depth, size, 3-point shooting, and ball handlers," said McCaffery. "And we have great chemistry.
 
"It still remains to be seen how all that meshes together when the games begin. That's the fun of it and the challenge we face. We have a young group that is excited about the opportunity before them and they believe in each other."
 
The Hawkeyes have 11 freshman and sophomores on the 14-player roster. McCaffery says the group's confidence, despite its youth, speaks to who each one of players is.
 
"They feel good about themselves and like who they are surrounded by," said McCaffery. "There is a respect factor."
 
The players are holding each other accountable. They watch how they conduct themselves on and off the court.
 
"Are they committed to being great or are they in college to have fun?" said McCaffery. "What they're seeing is a group that is together. They're a group that wants to be great."
 
The Hawkeyes have won 20 or more games in four straight seasons. Iowa has made three straight NCAA Tournaments and advanced to the Second Round in consecutive seasons.
 
Jones, who joined McCaffery and Jok as Iowa's representative's for Big Ten Media Day in the nation's capital, says the Hawkeyes are ready for the journey.
 
"This is all fun," said Jones.
 
It's enjoyable because of the team's togetherness.
 
"We take it serious when we're on the court and off the court we laugh like no other," said Jones. "Half the time we stay in the locker room an hour past when we're supposed to go home."
 
It's a recipe for success.  It's a way to bring to continue growing and moving forward together.
 
Iowa hosts Regis University in an exhibition game Nov. 4 at 7 p.m. inside Carver-Hawkeye Arena.  The Hawkeyes' regular-season opener is against Kennesaw State on Nov. 11.  Season tickets are on sale by contacting the UI Athletics Ticket Office.