Hawkeye Fan Shop — A Black & Gold Store | 24 Hawkeyes to Watch 2016-17 | Hawk Talk Monthly — October | Buy Wisconsin Tickets
Editor's Note: The following first appeared in the University of Iowa's Hawk Talk Daily, an e-newsletter that offers a daily look at the Iowa Hawkeyes, delivered free each morning to thousands of fans of the Hawkeyes worldwide. To receive daily news from the Iowa Hawkeyes, sign up HERE.
By RICK BROWN
hawkeyesports.com
IOWA CITY, Iowa — Getting Randy Duncan to talk about his University of Iowa football career always took some doing. He was never a "me" guy.
I would still try, on occasion, to get him to talk about his days inside jersey No. 25. I wasn't the only one.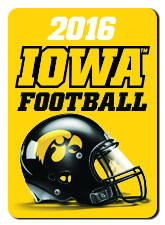 "Listen, I was a quarterback playing with a bunch of talented guys," Duncan once told the Des Moines Register. "Being in the right place at the right time probably was more important than my ability."
 
Don't let Duncan's humble nature fool you. He was one of the greatest quarterbacks in Iowa history, which is why he's one of nine members of the Kinnick Stadium Wall of Honor. Duncan passed away Sept. 27 at 79 years of age.
 
Iowa head football coach Kirk Ferentz never saw Duncan play in person, but he understands his place in Hawkeye football history.
 
"The word legend is often overused in sports, but in the case of Randy Duncan it fits," Ferentz said. "He was one of the true Hawkeye legends who served as an outstanding representative of Iowa football and the University of Iowa."
 
Duncan wrote notes to Ferentz many times. Sometimes it was congratulations. Maybe some encouragement. Because Duncan cared deeply about the Hawkeyes, and they remained an important part of his life until he lost his battle with cancer last month.
 
As his obituary read, "Randy was devoted to the University of Iowa, as an athlete, and a member of the Letterman's Club and the National I-Club. His greatest love besides his family was Hawkeye football and he was a season ticket holder for over 50 years."
 
On Oct. 7, the night before Iowa won at Minnesota, 14-7, Ferentz played his team a film clip of a Duncan speech. Nearly six decades later, Duncan's words touched on things Ferentz wanted his team to hear.
 
Recent generations know about former Iowa quarterbacks Chuck Long and Brad Banks, both Heisman Trophy runners-up. Duncan was a Heisman runner-up, too. Long and Banks played for Big Ten championship teams. Duncan did, too. Long and Banks won the Silver Football Award presented to the most valuable player in the Big Ten. Duncan did, too.
 
Head coach Forest Evashevski left Washington State to take over Iowa's struggling program in 1952, and made the Hawkeyes a national name. Iowa went 9-1 in 1956, winning the Big Ten title and a Rose Bowl. The quarterback was Kenny Ploen, who was named the Big Ten MVP.
 
Evashevski had recruited Duncan out of Des Moines Roosevelt High School, and almost didn't get him. Duncan was giving Colorado serious consideration. But Bump Elliott, one of Evashevski's assistant coaches and Iowa's athletics director from 1970-1991, sold Duncan on the Hawkeyes.
 
"I changed in favor of Iowa because of Bump Elliott," Duncan said when he was enshrined into the Des Moines Sunday Register Sports Hall of Fame in 1976. "I thought he was the greatest human being ever to walk the face of this earth."
 
Duncan was Ploen's sophomore understudy in 1956. In the two seasons that followed, Duncan quarterbacked the Hawkeyes to a 15-2-2 record and was first-team All-Big Ten both seasons. This was in the days of single platoon football. Duncan also played safety on defense.
 
Duncan led the Big Ten in passing in 1958, completing 106-of-178 passes for 1,397 yards. He passed for 12 touchdowns and ran for five more that season, and his career ended with a 38-12 victory over California in the 1959 Rose Bowl.
The passing game is much more sophisticated today than it was when Duncan played. But his 23 career touchdown passes and 2,615 career passing yards were school records at the time. Those 23 touchdown passes are still tied for 11th all-time.
 
Duncan is one of 23 quarterbacks to throw for at least 2,000 yards at Iowa. He is the only player on that list who played before 1963. Every player who has thrown more touchdown passes than Duncan played after 1980.
 
Pete Dawkins won the Heisman Trophy in 1958, receiving 1,394 votes to Duncan's 1,021. Behind Duncan's leadership in the huddle and his play after the ball was snapped, Iowa finished second to LSU in the final Associated Press poll of the 1958 season.
Back then, the poll came out before bowl games were played. The undefeated Tigers defeated two ranked teams during the regular season — No. 11 Mississipi and No. 14 Florida. Iowa defeated three — No. 7 Wisconsin, No. 10 TCU, and No. 17 Notre Dame. Iowa also tied No. 6 Air Force and lost to No. 8 Ohio State (38-28, even though Duncan completed 22-of-33 passes for 249 yards).
LSU finished unbeaten with a 7-0 victory over No. 12 Clemson in the Sugar Bowl. Iowa's one-sided victory over No. 16 California in the Rose Bowl convinced the Football Writers Association of America to declare Iowa the national champion, and they presented the Hawkeyes with the Grantland Rice Award.
 
In addition to being named the Big Ten's MVP as a senior, Duncan was a consensus All-American, was presented the Walter Camp Award as the national back of the year and was named college player of the year by three organizations.
 
The Green Bay Packers made Duncan the first pick in the 1959 NFL Draft, but he opted to go to the Canadian Football League. It was the wrong decision, he said many years later. After two seasons in Canada and another with the Dallas Texans of the American Football League, Duncan retired. He returned home to get his law degree from Drake University. He had a distinguished law career for more than 40 years.
 
Of all his honors on the football field, Duncan said that being named Iowa's MVP in 1958 meant the most to him "because my teammates did the voting."
 
Duncan was elected to the National Football Foundation College Football Hall of Fame in 1997. Not bad for a guy who said he rode the coattails of teammates.