Hawkeye Fan Shop — A Black & Gold Store | 24 Hawkeyes to Watch 2016-17 | Hawkeyes in the NFL | Hawk Talk Monthly — Oct. 2016 | Freshman Profile: Manny Rugamba | Freshman Profile: Keith Duncan | Freshman Profile: Nathan Stanley | Freshman Profile: Amani Jones | Freshman Profile: Devonte Young | Freshman Profile: Amani Hooker | VIDEO — Noah Fant
Editor's Note: The following first appeared in the University of Iowa's Hawk Talk Daily, an e-newsletter that offers a daily look at the Iowa Hawkeyes, delivered free each morning to thousands of fans of the Hawkeyes worldwide. To receive daily news from the Iowa Hawkeyes, sign up HERE.
By DARREN MILLER
hawkeyesports.com
IOWA CITY, Iowa — The week leading up to a football game at Purdue, University of Iowa head coach Kirk Ferentz and his staff wanted to work true freshman Noah Fant more significantly into the offensive game plan.
 
That decision paid dividends with an impressive 5-yard touchdown reception by the 6-foot-5, 220-pound tight end from Omaha, Nebraska.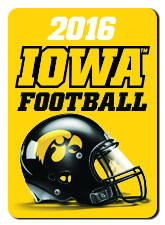 Iowa won the game Saturday, 49-35, improving to 5-2 overall, 3-1 in the Big Ten, and Fant showed why he has Hawkeye fans excited about the final five games of the regular season, as well as the next three seasons.
 
"It was a corner route to the end of the end zone, I caught it, and slid my left foot in," Fant said. "At first everybody thought it wasn't good, then we celebrated on the sideline and it was a great experience for me and the team."
 
Officials initially ruled Fant out-of-bounds on the scoring play, but the call was reversed after video review. It capped a five-play, 91-yard scoring drive and put the Hawkeyes ahead, 42-14, with 6:07 left in the third quarter.
 
Fant, who has four receptions for 21 yards this season, wasn't necessarily the primary target on the scoring toss, but quarterback C.J. Beathard read the defensive situation and went his way.
 
"He has the athletic ability to be a matchup problem when he's in there," Beathard said. "He's an athletic guy and improving as the weeks go on."
 
The timing of Fant's increased game repetitions coincided with a lower leg injury suffered by senior tight end George Kittle against Purdue. Kittle is third on the team with 17 receptions for 280 yards and two touchdowns.
"We have been trying to move (Noah) forward as fast as we can," Ferentz said. "He came up with a big play (at Purdue) and did a lot of good things out there both in the running and passing game. It was good to see him get that touchdown catch — he did a nice job getting that foot down."
 
Fant played tight end and defensive end for Omaha South High School, where the head coach was his brother, Chris. He was named first-team all-state after setting school records for receptions and touchdowns in a season and career. Fant also played basketball and competed in track and field.
 
When he first arrived in fall camp it was as a defensive end. Then wide receiver. Fant found a home at tight end.
  "I want to be the best team player I can be and keep improving on my game, both blocking and passing. I want to keep maturing and grinding to be the greatest player I can be." — Noah Fant, UI freshman tight end
"Coaches have helped me acclimate as I came in and the players are coming close as a team," Fant said. "It is a great experience."
 
Fant is majoring in human physiology and wants to become an orthopedic surgeon.
 
"It is a lot of schooling, but it is what I love to do," Fant said. "I was in a medical program that partnered with the University of Nebraska Medical Center in high school. I got to work with cadavers in the anatomy lab and I fell in love with that stuff."
 
Before Fant committed to the Hawkeyes, he and his family researched the tradition of tight end excellence at the UI. It was a list that includes names like Dallas Clark, Erik Jensen, Tony Jackson, Scott Chandler, Brandon Myers, Tony Moeaki, C.J. Fiedorowicz, and most recently Henry Krieger Coble.
 
"You can't pass that up," Fant said. "That is a big part of recruiting and why I came here."
 
The Hawkeyes host No. 10 Wisconsin (4-2, 1-2) on Saturday with an 11:01 a.m. (CT) kickoff. Iowa and the Badgers have battled for the Heartland Trophy since 2004. The Hawkeyes won last season in Madison, Wisconsin, 10-6.
 
The extent of Fant's role in that game remains to be seen since he is behind Kittle and junior Peter Pekar on the depth chart.  
 
"I want to be the best team player I can be and keep improving on my game, both blocking and passing," Fant said. "I want to keep maturing and grinding to be the greatest player I can be."