Hawkeye Fan Shop — A Black & Gold Store | 24 Hawkeyes to Watch 2016-17 | Hawk Talk Monthly — Oct. 2016 | Photo Gallery | Box Score (PDF) | Postgame Notes (PDF)
By RICK BROWN
hawkeyesports.com
IOWA CITY, Iowa — Iowa's rush defense was less than impressive in a three-game stretch earlier this season.
 
North Dakota State ran for 239 yards. Rutgers had 193, and Northwestern 198. Iowa lost two of those games.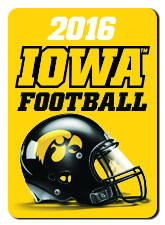 "After the Northwestern game we put our mind to it to stop people," Iowa defensive tackle Jaleel Johnson said. "We were tired of teams running on us. Throughout the week we were focused on coming off the ball, getting off blocks, getting in the backfield, and causing havoc. We applied that to the game."
 
Rush defense was a bright spot in Iowa's 17-9 loss to No. 10 Wisconsin on Saturday at Kinnick Stadium. The Badgers rushed for 167 yards on 48 carries. Running back Corey Clement finished with 134 yards in 35 carries, but his only significant gain was a 34-yarder late in the game.
 
Iowa head coach Kirk Ferentz said he thought his team's rush defense was good "up until (Clement) popped out on the left side at the end. We had them at about 3 yards a carry at that point. We have a lot of respect for their offensive team.
 
"He's (Clement) an excellent back. They always seen to have one. We competed hard and did a good job of keeping him under control. Then he popped that one at the end."
 
Minnesota rushed for just 102 yards in 29 carries, and Purdue gained just 46 yards in 22 carries, in the two previous games against Iowa's defense.  Clement rushed for 164 yards in 25 carries a week ago in an overtime loss to Ohio State.
 
.Johnson was forced to play extra snaps Saturday after fellow defensive tackle Nathan Bazata was injured and missed a good share of the game. Faith Ekakitie, who usually rotates at the tackle position with Johnson and Bazata, also played more snaps than normal.
 
"I don't care who's back there," Ekakitie said. "You could have the Heisman Trophy winner back there. I feel like if we play to our responsibilities, and do what we're supposed to do as a defense, that we can stop whoever is back there. Some backs are going to make plays for their team because they're special players, but from a fundamental standpoint, if we do what we're supposed to do as a defense we can stop whoever."
 
Johnson was a one-man wrecking crew on one Wisconsin possession late in the third quarter. The 6-4, 310-pound senior from Lombard, Illinois, sacked Badger quarterback Alex Hornibrook on back-to-back plays for a combined negative 18 yards. On the first sack, Johnson knocked Wisconsin right guard Beau Benzschawel back on his heels and blew past him.
 
"Coach (Reese) Morgan emphasizes getting knockbacks," Johnson said. "The more we get, the more pressure we get on quarterbacks. That's our goal. Keep getting knockbacks."
 
Johnson said he got "a little bit gassed" for one stretch of the first half, but "really just kept playing and fighting."
 
It became an endurance test for the Iowa defense, too. The Hawkeye offense had three straight three-and-outs in the third quarter, and Wisconsin had possession of the ball more than 14 minutes than Iowa did.
 
"It's all about complementary football," Johnson said. "If our offense isn't doing what they need to do, it's up to our defense to keep getting stops."
 
Iowa, now 5-3 overall and 3-2 in Big Ten play, has a bye week before traveling to Penn State on Nov. 5.
 
"Everyone is going to watch film, take a step back, get some treatments and when the time comes we'll put our focus on the next opponent," Johnson said.