Hawkeye Fan Shop — A Black & Gold Store | 24 Hawkeyes to Watch 2016-17 | Meet Our 2016 Kid Captains | Aaron Miller Video
By CATIE MALOOLY
UI Health Care Marketing and Communications
 
IOWA CITY, Iowa — In August 2014, it was time for then 9-year-old Aaron Miller's back-to-school physical. He had lost about 15 pounds and been drinking a lot more water that summer. When his local doctor ran tests, it was discovered that Aaron's blood sugar was dangerously high.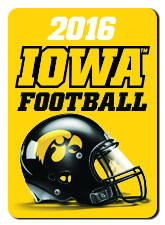 "The doctor kept coming out of the room and coming back in and he looked kind of panicky," remembers Aaron's mother, Nicole. "He said, 'Aaron should be in a coma right now.'"
 
The Millers were told to bring their son to University of Iowa Children's Hospital immediately, where Aaron was diagnosed with Type 1 diabetes — a disease in which the pancreas does not make enough insulin, a hormone needed for the body to produce energy.
 
The diagnosis was a shock to his parents, but Aaron's maturity helped his family process the news.
 
"When he found out, he was surprisingly really good about it. He never really felt down," says his father, Zac.
 
While in the hospital, Nicole and Zac underwent two days of diabetes education to learn how to care for their son.
 
"We met with a dietitian for a few hours to tell us what he can eat, how to count carbs," says Zac. "The diabetic educator came in, and she told us everything you could ever think of."
 
As part of the education, Nicole and Zac had to administer shots to one another.
 
"We had to practice mixing up insulin and being able to do pens (to administer insulin)," says Nicole. "The team all works together to try to teach you. They all have their own separate specialties, but they work together to try to help you understand everything knowing you're going into it completely blind."
 
The education and training turned out to be especially valuable for Nicole — two months after Aaron's diagnosis, she was also diagnosed with Type 1 diabetes. The rest of Aaron's siblings are now tested annually through a UI Children's Hospital research study, and his sister, Autumn, has been diagnosed with the same condition as well.
 
Many UI Children's Hospital researchers are part of the Fraternal Order of Eagles Diabetes Research Center at the University of Iowa, a world-class institute focused on preventing complications and creating treatments for people like Aaron, Nicole, and Autumn.
 
Today, Aaron is continuing to manage his diabetes. He checks his blood sugar before eating, carefully counts his carbohydrate intake, and gives himself insulin shots. He returns to UI Children's Hospital every three months to visit with his care team.
 
Despite the daily demands of his condition, Aaron still feels like a normal kid. He loves taking care of his animals on his family's farm, and he enjoys showing his calves with his brother, Austin, at county fairs and shows.
 
"Even now, we've had to go back to the diabetes educator and his doctors and the dietitian to re-explain to him what it is because he doesn't feel sick," says Nicole.
 
The shared diagnosis between Aaron, his mom, and his sister has brought the family together and made them stronger.
 
"Since Aaron found out about this, I've looked at things closer," says Zac. "We spend more time together because things can change so fast."