Hawkeye Fan Shop — A Black & Gold Store | 24 Hawkeyes to Watch 2016-17 | Hawk Talk Monthly — Nov. 2016 | 2016-17 Iowa Swimming & Diving Media Guide
Editor's note:24 Hawkeyes to Watch is a feature released Monday, Aug. 1, highlighting one athlete from each of the 24 intercollegiate sports offered by the University of Iowa. More than 700 talented student-athletes are currently busy preparing for the 2016-17 athletics year at the UI. Hawkeyesports.com will introduce you to 24 Hawkeyes who, for one reason or another, are poised to play a prominent role in the intercollegiate athletics program at the UI in the coming year.
By JAMES ALLAN
hawkeyesports.com
IOWA CITY, Iowa — Hannah Burvill came to the United States for opportunity.
 
That prospect brought Burvill to the University of Iowa from Pyrford, Great Britain, where she is a freshman on the women's swimming and diving team. Burvill expects to make an immediate impact for the Hawkeyes in the freestyle, individual medley, and backstroke events.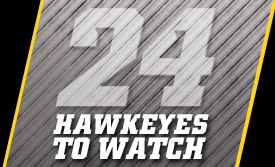 "She comes in with fast times," said UI head coach Marc Long. "Her times converted (from meters to yards) put her right up there in the Big Ten and NCAAs."
 
Burvill's top time in the 200-yard freestyle (1:45.00) is more than three seconds faster than anyone on the Iowa roster last season. The time would have been the fourth-best in the event at last season's Big Ten Championships.
 
On top of that, Burvill's 50 free (22.60), 100 free (48.42), and 500 free (4:53.32) times would have led the team a season ago.
 
"Hannah's demeanor and approach fit well," said Long. "From a racing perspective, she'll have a tremendous impact.  It has yet to be written, but we anticipate her having an impact, not only on the team, but at the Big Ten and NCAA level."
 
Burvill's ascension as a top-level swimmer began at the age of four when her parents signed her up for lessons at a teaching pool. A club coach took notice, approached her family, and offered a tryout.
 
By 9 she began swimming competitively, and over the past nine years, she has turned herself into a United Kingdom national medalist. 
 
Burvill was a three-time medalist in the 100-meter freestyle, winning gold in 2011. Burvill also medaled in the 200-meter free (bronze, 2011), 50-meter butterfly (bronze, 2015), and as part of 400-meter medley relay (gold, 2015).
 
"(The international experience) helps a lot because I can control my nerves when I am racing here," said Burvill. "I have raced with the Southeast Team in England, Barcelona, and Geneva. I have a good base for competing here. It isn't as daunting as I thought it would be."
 
Burvill learned of the UI through the team manager at her home club.  The manager's son — Stewart Carroll — swam for the Hawkeyes from 1989-92, where he earned All-America honors in 1990 and 1991 in the 800-yard freestyle relay.
 
"She highly recommended it," said Burvill.
 
The recruiting process started with an email to Long and it progressed quickly. Technology played a major role in the recruitment and it eventually sold her on the UI.
 
"I Skyped the coaches and they gave me a tour around the Campus Recreation and Wellness Center," said Burvill. "They walked around pool side, showed me the athletic training room, and the gym side of everything.  It was all impressive.
 
"The opportunities here are incredible. I always wanted to come to America, and so far I am liking what I have chosen to do."
 
There were butterflies when Burvill took the blocks at her first collegiate meet — a Big Ten Conference road dual at Michigan State on Sept. 30. 
 
"I was fairly nervous with it being the first meet and because of all the hard training (we had done)," she said. "You don't know how you're going to swim. I try to go in calm and treat it like any normal swim.  It went well; the team did well."
 
Burvill, who was named the Big Ten Freshman of the Week on Oct. 5, leads the team in the 100 free (50.59), 200 free (1:49.73), and 500 free (4:59.12), while ranking second in the 50 free (23.85).  Her 100 and 200 freestyle times rank ninth in program history.
 
Aside from the adjustment of living on her own for the first time, in a new country, Burvill's transition to Iowa City has gone smoother than anticipated.
 
"The team has been welcoming, which has made the adjustment go much easier," she said. "They're a great group of people."
 
Burvill's goals for her first season are to work hard, take care of her body, and do everything she can to succeed. She grew up admiring swimmers on the British National Team and she is all in on the sport of swimming to see how far she can go.
 
"My goal has always been to get as far as I can and to see if I can get there," she said. "I try to work as hard as I can in training to see where I can get to because you never know.  (This year) being up with some of the top swimmers in the Big Ten is what I am working toward."
 
It's the opportunity directly in front of her. Burvill came to America for opportunity.