Hawkeye Fan Shop — A Black & Gold Store | 24 Hawkeyes to Watch 2016-17 | Meet Our 2016 Kid Captains | Video — Hayden Despenas
By CATIE MALOOLY
UI Health Care Marketing and Communications
 
IOWA CITY, Iowa — Hawkeye tradition has been part of Hayden Despenas' life since before he was born. Many of his family members attended the University of Iowa and he was named after former Iowa football coach Hayden Fry.
 
Since 2012, Hayden's connection to the UI has become stronger.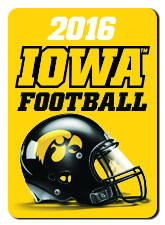 When Hayden was 5 years old, his parents noticed abnormalities in the way he ran. Then, when he was in second grade, Hayden's mother, Sarah, got a call from the school nurse.
 
"She said, 'Hayden's been in my office a lot. He was shaking, unstable, and off-balanced. I'm concerned there might be something more going on with him,'" recalls Sarah.
 
A few months later, Hayden had an appointment with a pediatric neurologist. In May 2012, he was diagnosed with Friedreich's ataxia (FA), a rare form of muscular dystrophy.
 
"It's devastating as a parent," says Hayden's father, Dana. "My sister lost two of her three children to the disease."
 
"There's an overwhelming sense of devastation, desperation, grief, and sadness over the loss of what you wished for your child," adds Sarah. "We know it's a shortened life expectancy. In that despair and urgency, you make a decision to become an active part of trying to find the cure and making your child's life the best it can be."
 
After his diagnosis, Hayden's parents learned of research being done at University of Iowa Stead Family Children's Hospital by pediatric neurologist Katherine Mathews, M.D. They transferred his care to Mathews' Muscular Dystrophy Association-affiliated clinic in Iowa City.
 
Prior to Hayden's first appointment at UI Stead Family Children's Hospital, he was experiencing balance issues, headaches, fatigue, stomach aches, and chest pains. He was attending school just two hours a day.
 
Mathews was determined to get him back on track.
 
"She said, 'I know you don't feel good, but my patients with Friedreich's ataxia go to college. They get degrees. They get jobs. They live their lives,'" remembers Sarah. "That changed everything for Hayden. He needed somebody to just say, 'You can do this. You are not going to use this disease as an excuse not to live a normal life.'"
 
Since beginning care at UI Stead Family Children's Hospital, Hayden is now thriving in school. He has a difficult time walking, so he uses a power wheelchair to get around.
 
"It's extremely hard on parents to watch your kid lose these abilities," says Dana. "Going through this, it seems like we tend to take on the pain and hurt, but when we look at Hayden, he's an extremely happy kid. His attitude is phenomenal."
 
Hayden, now 13, is an honorary Mason City firefighter and is involved in a number of organizations raising awareness and funding for FA research.
 
"We are hoping that by educating people about Friedreich's ataxia, people can reach out and help fund research and the clinical trials necessary to cure these kids," says Sarah.
 
The Despenas family is thankful for Hayden's dedicated care team.
 
"We have such a deep, honest, sincere appreciation for the time and effort you give Hayden and other kids who have life-threatening illnesses," says Sarah. "You make living his life fully possible."