Hawkeyes in the NBA | 24 Hawkeyes to Watch | Hawk Talk Monthly — November | Purchase Single-Game Tickets | Photo Gallery | McCaffery Postgame Transcript (PDF) | Box Score (PDF) | Boxscore
By JAMES ALLAN
hawkeyesports.com
IOWA CITY, Iowa — Senior Peter Jok scored a "quiet" 27 points to lead the University of Iowa men's basketball team to a season-opening 91-74 victory over Kennesaw State on Friday night on Mediacom Court inside Carver-Hawkeye Arena.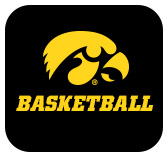 The preseason All-Big Ten selection posted up, scored via the 3-ball, and displayed his catch-and-shoot prowess en route to making 11-of-19 field goals and three 3-pointers.  
 
"I didn't try to force anything, I was going with the flow of the offense," said Jok, who also had four rebounds, three assists, and two steals in 26 minutes. "It was quiet because I didn't really go off and get hot and stay hot.  It was decent."
 
Jok was just two points off his career-high in the season-opener.  If 27 was decent, what's good?
 
"For me, I am trying to get 35-plus and get a good "W," said Jok.
 
Jok was impressed with the play of a trio of underclassmen in the opener.  Sophomore Ahmad Wagner finished with 12 points, freshman Cordell Pemsl had 10, and freshman Jordan Bohannon had two 3-pointers in 21 minutes.
 
"Ahmad played well and Cordell came in and they couldn't stop him inside," said Jok. "We kept going to him.  Jordan also impressed me; he played the whole second half."
 
Wagner finished with a near flawless box score, making all four field goals, 4-of-5 free throws, grabbing five boards, and handing out four assists.  He did have two of Iowa's 17 turnovers in the game.
 
Pemsl led a fast-break on two occasions and showed savvy around the basket to finish with 10 points on 4-of-7 shooting. He also grabbed six rebounds.
 
"It was nice to go out and show what I am capable of doing," said Pemsl, a Dubuque native. "Last game I missed a bunch of easy shots. My main goal was to get the ball inside and work inside-out. We did that and it was easy buckets inside and we got Pete open. It was a good first game."
 
After leading 43-25 at the half, Iowa had a defensive lapse to start the second half that allowed Kennesaw State to claw its way back. The Owls scored the first five points to force an Iowa timeout and cut their deficit in half — to single digits — over the first 3 1/2 minutes.  Nick Masterson's 3-pointer made the margin eight (49-41) with 16:40 to play.
 
"We worked hard — we had one stretch in the first half where we had six consecutive stops to build a 20-point lead — but then we give up a 3 at the buzzer and come out not ready to go starting the second half," said UI head coach Fran McCaffery. "That is unacceptable, and I pointed that out."
 
Iowa followed with a 7-0 spurt — behind the play of Pemsl and Wagner — to push the lead to 15.  Wagner scored 11 of his 12 points in the second half as the Hawkeyes pulled away.
 
Jok's 3-pointer at the 10:20 mark extended the Iowa lead to 68-48.  The Hawkeyes led by as many as 22 down the stretch to win its season-opener for a sixth straight season.    
 
Ten Iowa players scored for a team that shot 50 percent from the field and made 7-of-22 3-pointers. Iowa had 17 assists on 30 field goals.  Defensively, the Hawkeyes forced 21 turnovers and limited the Owls to 42.9 percent shooting.
 
"We had stretches where we were good, but it's not unlike it was in the last game, we had stretches where we weren't as good, defensively," said McCaffery. "Seventeen turnovers is too many.  We were good enough, smart enough, and tough enough to overcome it, but we have to be better than that in those situations on a consistent basis."
 
Fittingly, Jok scored Iowa's first four points of the season, helping the Hawkeyes jump out to a 9-0 lead.  Iowa led 17-5 on a Pemsl lay-up at the 13:35 and a Jok-to-Christian Williams alley-oop extended the lead to 22-7 with 9:26 left in the half.
 
The Hawkeyes pushed their lead to 32-15 at the five-minute mark before a Nicholas Baer 3-pointer stretched the advantage to 42-22.  Iowa led 43-25 after Masterson made a buzzer-beater going into the locker room.
 
Masterson led all scorers with 29 points in the game.  He made 11-of-16 field goals, including seven 3-pointers.
 
"We still have a long way to go," said Jok. "We are going to learn from this. We showed spurts where we did well and showed we are capable of being a great team. You can see we're inexperienced and have some flaws, but we have to flush this game and get ready for Sunday."
 
The Hawkeyes host Savannah State at 2:30 p.m. (CT) Sunday afternoon.