Hawkeye Fan Shop — A Black & Gold Store | 24 Hawkeyes to Watch 2016-17 | Hawkeyes in the NBA | Hawk Talk Monthly — Nov. 2016 | McCaffery Transcript (PDF)
By JAMES ALLAN
hawkeyesports.com
IOWA CITY, Iowa — Thursday night's Gavitt Tipoff Games matchup against Seton Hall will be an early-season test for the University of Iowa men's basketball team.
 
The Hawkeyes host the Pirates — a 25-win, NCAA Tournament team a season ago — at 8 p.m. (CT) on Mediacom Court inside Carver-Hawkeye Arena.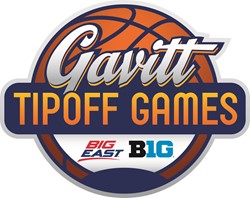 "We know they're going to be a tough team," said sophomore Nicholas Baer, who is averaging 9.5 points and 2.5 rebounds in two games to start the 2016-17 season. "It's going to be a good test and challenge to see where we stand against top competition."
 
Seton Hall (2-0) has five upperclassmen — four juniors and a senior — in its starting lineup. Four starters return from a team that claimed the Big East Tournament title by defeating eventual national champion Villanova.
 
"They have an expectation of winning and a winning culture," UI head coach Fran McCaffery said during a Wednesday news conference. "They present a lot of challenges with their size, speed, and experience.  They're going to challenge you with some different defenses and will keep coming at you. 
 
"That's kind of what our league is, and that's why we play the Gavitt Games."
 
The Pirates have three players averaging double figures with guard Khadeen Carrington leading the team with a 22.5 scoring average. Forward Angel Delgado averages 18 points and 15 rebounds and forward Desi Rodriguez averages 12 points and 7.5 boards.
 
"This will be great test for us," said freshman Tyler Cook. "They're a tough team, and we're a new, young team. Playing them early in the season will be great for us.  Hopefully we'll be able to match their intensity and level of toughness.
 
"Coach has been stressing to us that they're junkyard dogs; they're going to come out and try to punk us. We have to try to hit them first.  No matter what, it will be a great learning experience as we move forward."
 
Cook is learning on the go as a Hawkeye. He grabbed 10 rebounds in his first career game before scoring 14 points in 15 minutes in the win over Savannah State. He averages 10 points and seven rebounds.
 
"I am still trying to figure stuff out," he said. "I played well in the second half last game; I forgot about all the voices and started hooping. I have to get back to doing that; that's when I am at my best."
 
McCaffery says Thursday's game is an opportunity for Iowa to face a team that will have its name called on Selection Sunday in March.
 
"We're playing an NCAA Tournament team, (Seton Hall) knows and expects that," said McCaffery. "We would like to be there as well. It's the only chance we're going to get to play them. It's great for our fans, too, to see another power conference team that they don't regularly see and maybe play a different style.
 
"I am looking forward to the challenge for our players."
 
Senior Dale Jones is expected to play Thursday, giving the Hawkeyes another option off the bench.  McCaffery likely won't be as liberal when dispersing minutes.
 
"I'll play who I think deserves to play at that particular time," he said. "We're going to try to win the game."
 
Tickets are available via the UI Athletics Ticket Office at hawkeyesports.com or by calling 1-800-IA-HAWKS.  The game will be televised on BTN with Brian Anderson and Jon Crispin on the call.