Hawkeye Fan Shop — A Black & Gold Store | Hawkeyes in the NBA | Hawk Talk Monthly — Dec. 2016 | 24 Hawkeyes to Watch | Box Score (PDF) | Boxscore
By JAMES ALLAN
hawkeyesports.com
SOUTH BEND, Ind. — Freshmen Jordan Bohannon and Cordell Pemsl combined for 41 points in their first career starts, but it wasn't enough for the University of Iowa men's basketball team, who fell 92-78 to Notre Dame in an ACC/Big Ten Challenge match-up Tuesday night at the Joyce Center.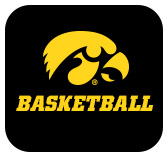 Bohannon finished with a career-high 23 points on 7-of-18 shooting, including seven 3-pointers and seven assists. Pemsl made 8-of-9 field goals en route to an 18-point effort, tying a career-high, in an increased role due to the injury to freshman Tyler Cook. 
 
"He did that regularly in high school," said UI head coach Fran McCaffery of Bohannon. "He's going to make 6-to-8 3s because he's going to keep shooting and work to get open. I am probably more proud that he has seven assists to one turnover against a good team.
 
"Cordell was good. He gave us a low-post scoring threat and he gave us a threat we could run the offense through."
 
Bohannon and Pemsl helped to make up for an uncharacteristically off night from senior Peter Jok.  The guard finished with 15 points, but they came on a 4-of-20 effort from the floor.
 
"When you have 42 in the last game (against Memphis), they were locked in to him," said McCaffery. "(Notre Dame coach) Mike (Brey) was rotating guys and switching out on him. They worked hard defending him.
 
"He's going to see that the rest of the year. We'll always give him the green light. I told him you'll have to do more off the dribble to create for other people. Those shots he missed tonight are the ones he made against Memphis."
 
Iowa was at a crossroads late in the first half when Notre Dame extended its lead to 41-26 with 3:23 remaining.  The Hawkeyes surged to close the gap to a single possession at the break.
 
Back-to-back Bohannon 3-pointers cut the Fighting Irish lead to nine and Jok followed with seven straight points, including a 3-pointer at the buzzer to cut the deficit to 41-39. 
 
Notre Dame extended its lead to six points coming out of the locker room before Bohannon and Pemsl scored six straight to give Iowa a 46-45 advantage.  The Hawkeyes led 52-50 with 15 minutes remaining before the Fighting Irish went on a 10-0 run to take a 60-52 lead.
 
"We missed 19 shots in second half," said Pemsl. "I got some easy baskets that sparked us and then other guys got involved. We were playing well in spurts. Then we lost it and were losing track of what we wanted to do on offense and that led to easy baskets for them on defense."
 
Redshirt sophomore Brady Ellingson ended Iowa's 3 1/2 minute scoring drought with a 3-pointer to make it a five-point game with 11:29 left, but Notre Dame's V.J. Beachem then caught fire. 
 
Beachem's 3-pointer at the 9:46 mark made it a nine-point game and his triple at the eight-minute mark pushed the Irish lead to 10.  Notre Dame led by as many as 17 with 2:19 to play.
 
The Hawkeyes shot 38 percent from the floor and made 12-of-35 3-point field goals. Iowa assisted on 22 of its 27 field goals and committed just six turnovers.  Iowa forced 14 turnovers (Notre Dame entered the game committing a nation-low 7.5 turnovers per game).
 
Notre Dame shot 47.3 percent for the game with 10 3-pointers and was 30-of-33 from the free throw stripe. Bonzie Colson led all scorers with 24 points and 17 rebounds.
 
"Our defense was a lot better, but we wore down a little," said McCaffery. "They kept executing and we had that one cold spell where we didn't score the ball and they did. That was the difference in the game.
 
"We still gave up 92, which is a credit to them because I thought we played a lot better."
 
Iowa (3-4) returns to action Saturday, hosting Omaha at 1 p.m. (CT) on Mediacom Court inside Carver-Hawkeye Arena.