Hawkeye Fan Shop — A Black & Gold Store | Hawkeyes in the NBA | Hawk Talk Monthly — Dec. 2016 | 24 Hawkeyes to Watch | Fran McCaffery Transcript (PDF)
By JAMES ALLAN
hawkeyesports.com
IOWA CITY, Iowa — University of Iowa head men's basketball coach Fran McCaffery will stick with his new-look starting five Saturday against Omaha.
 
A trio of freshmen — Isaiah Moss, Jordan Bohannon, and Cordell Pemsl — will join holdovers Peter Jok and Nicholas Baer in the starting lineup for a second straight game as the Hawkeyes host the Mavericks at 1 p.m. (CT) on Mediacom Court inside Carver-Hawkeye Arena.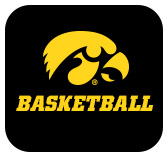 It opens a stretch where Iowa plays five of six contests at home.
 
"I was happy with that group (against Notre Dame)," McCaffery said during a Friday news conference. "It was a big step for Isaiah, Cordell handled it well, and I wasn't surprised with Jordan — he had been playing well in my view."
 
Bohannon finished with a career-high 23 points against the Fighting Irish and dished out seven assists.  His most impressive stat may have been in the turnover column, where he had one miscue in 32 minutes.
 
"He took great pride in that he wasn't going to allow our team to turn it over like we had been," said McCaffery. "He settled everybody down and we only had one turnover in the second half. That gives you a chance to win."
 
The production for Bohannon and Pemsl is remarkable, considering both players were competing in the Mississippi Valley Conference a year ago at this time.  Moss redshirted last season.
 
"I've been watching them since they were in eighth grade, so I've seen them in enough situations to know what they are made of and what their game is," said McCaffery. "I don't look at them as young, I look at them as two guys that can really play and I trust them.
 
"My responsibility is to get them to trust themselves, and they both do."
 
Pemsl is averaging 8.0 points and 4.5 rebounds over seven games and is shooting 74.2 percent from the field.  His field goal percentage leads the Big Ten Conference. 
 
"He's very efficient, so I see him sustaining (that percentage)" said McCaffery. "But teams will start defending him differently. The thing I like about him is even if he's not scoring, you can still run your offense through him because he's such a good passer. 
 
"I think he'll start doing that a lot more when he starts seeing more attention."
 
Iowa's homestand begins with Omaha, a team that has been road warriors to start the season. The Mavericks are 3-4, but have played five of their first seven games on the road, including three in the state of California.
 
"I have been impressed with Omaha," said McCaffery. "Twice they went to California and won, which is hard to do. They played well against USC and played tough against Kansas State and Rice — quality programs.
 
"They have depth, a tremendous point guard, and a great post player.  This is a good team."
 
Omaha has four players averaging double figures with Tre'Shawn Thurman leading the team with 13.9 points and 7.6 rebounds per game. Tra-Deon Hollins averages 11.1 points, 6.4 assists, and four steals a game.
 
Tickets are available for purchase through the UI Athletics Ticket Office.  UI Alumni Association members will be admitted free of charge, while their guests can gain admittance for only $5.  The game will be streamed live on BTN Plus with Zach Mackey, Jess Settles, and Taylor Brooks on the call.