Hawkeye Fan Shop — A Black & Gold Store | Hawkeyes in the NBA | Hawk Talk Monthly — Dec. 2016 | 24 Hawkeyes to Watch | Photo Gallery | Box Score (PDF) | Fran McCaffery Transcript (PDF) | Boxscore
By JAMES ALLAN
hawkeyesports.com
IOWA CITY, Iowa — Omaha put up 98 points in a 98-89 victory over the University of Iowa men's basketball team Saturday afternoon on Mediacom Court inside Carver-Hawkeye Arena.
 
"It seems to be every game is the same thing," said freshman Cordell Pemsl, who finished with 18 points on 6-of-7 shooting. "We're giving up easy layups, offensive rebounds — teams are getting as many offensive rebounds as we're getting defensively.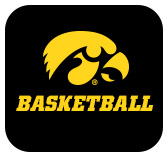 "We see spurts in practice; we have days where we look like one of the best defensive teams in the country then we show up and give up 98. It's hard to win, nearly impossible to win, giving up 90-plus points."
 
The Mavericks shot 51.3 percent from the field in a 53-point first half.  Omaha finished with 40 points in the paint and had a 47.9 field goal percentage for the game.  Omaha had 19 offensive rebounds, leading to 20 second-chance points, and out-rebounded the Hawkeyes, 47-39.
 
"We've played essentially 10 games if you count the scrimmage and exhibition game, and we haven't defended in any of them," said UI head coach Fran McCaffery. "We have outscored people in four or five of them, but we haven't competed defensively like you're going to need to with the caliber of teams on your schedule. That has to change."
 
Senior Peter Jok led all scorers with 33 points, making 8-of-21 field goals, five 3-pointers, and all 12 of his free throw attempts.  He also grabbed 10 rebounds to tally his second career double-double.  The 30-point output was Jok's third game with 30 or more points this season.
 
The Hawkeyes, who shot 40.3 percent from the field, made 14 3-pointers in the contest.  Six came from freshman Jordan Bohannon, who finished with 20 points in the game.
 
"With Jordan and Peter, you have two big-time scorers in the backcourt," said McCaffery. "Cordell is a great low-post threat.  Those guys were terrific.
 
"I don't know if I have ever coached a team that made 14 3s and lost by nine."
 
Iowa used a 11-3 run midway through the first half to build a 34-27 lead with 8:29 remaining before Omaha answered with a 9-0 run to tie the game at 36.
 
Sophomore Brady Ellingson's 3-pointer broke the 36-all tie and Dom Uhl's layup at the 4:13 mark gave Iowa a 41-36 lead, but Omaha tied the game at 43 and scored 10 of the final 14 points of the half to take a 53-47 advantage into the break.
 
Iowa erased its deficit over the first 1:30 of the second half with a Bohannon 3-pointer tying the game at 55 at the 18:23 mark. The Hawkeyes trailed 62-59 with 13:05 remaining when Omaha got hot, stretching its lead to a game-high 11 points (79-68) with 7:35 remaining.
 
"In the first 10 minutes of the second half, we didn't score," said McCaffery. "We were missing shots we would normally make. We cut a six-point lead to one quickly and then we were shooting like 17 percent and it gave them a chance to go back up again.  That was unfortunate."
 
A Jok 3-pointer at the 5:18 mark cut the deficit to 81-76 and Iowa had it at a one possession game at 87-84 with 1:53 remaining. Omaha's Zach Jackson drained a 3-pointer with 1:21 left to push the lead to 90-84 propelling the Mavs to their first victory over a Big Ten Conference opponent in program history.
 
Omaha had four players reach double figures with Jackson leading the way with 21 points.  Tre'Shawn Thurman had 17 points and nine rebounds in 27 minutes.
 
Iowa (3-5) returns to action Monday, hosting Stetson at 6 p.m. (CT) on Mediacom Court.