Hawkeye Fan Shop — A Black & Gold Store | 24 Hawkeyes to Watch 2016-17 | Hawk Talk Monthly — Dec. 2016
IOWA CITY, Iowa — Fans were given their first look at the 2017 University of Iowa women's gymnastics team on Saturday at the annual Black and Gold Intrasquad meet held in the UI Field House. The Hawkeyes were divided into two teams and showcased their routines to more a large crowd.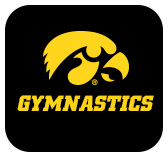 "We've had seven intrasquad meets this year, but none of them have been in an arena and in front of 500 people," said UI head coach Larissa Libby. "This situation adds pressure to the team and makes a big difference in a competitive situation.
The two teams competed in all four events during their intrasquad meet, beginning with vault. The gold team pulled ahead in the first rotation and remained consistent on the uneven bars to lead the black team 4-3 as they entered the third rotation. The black team tied things up on beam and then won the floor competition to secure a 9-8 overall victory.
 
"The young kids stood out for me today," said Libby. "Sydney Hogan got hurt at the intrasquad last year and she was out for half the season. I thought she did an outstanding job today. She trains really hard every single day. We've got a lot of hard workers, but that kid is incredible."
 
Freshmen Charlotte Sullivan, Bre Fitzke, Clair Kaji, Annie Kustoff and Gina Leal made their Hawkeye debuts.
 
"Charlotte Sullivan competed in the all-around for the first time today, and Bre Fitzke had a unbelievable beam routine," said Libby.
Libby is optimistic of the upcoming season but acknowledges that there is still work to before they begin regular season competition.
 
"I think they held back a little today, but that's why we do this — to see where we are. We talk to them about how this is their base mound, so you need to act like this was your first competition and move up from here. But to get them in that mindset and frame of thinking as a team is why we do this."
 
 The Hawkeyes begin the regular season on the road at Northern Illinois on Jan 8 at 1:00 p.m. (CT).