Hawkeye Fan Shop — A Black & Gold Store | Hawkeyes in the NBA | Hawk Talk Monthly — Dec. 2016 | 24 Hawkeyes to Watch | Photo Gallery | Box Score (PDF) | McCaffery Transcript (PDF) | Boxscore
By JAMES ALLAN
hawkeyesports.com
IOWA CITY, Iowa — The University of Iowa men's basketball team heard the talk, but it was the Hawkeyes that walked the walk.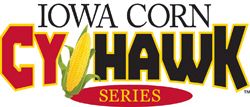 Iowa led for all but four minutes in a 78-64 victory over 25th-ranked Iowa State in an Iowa Corn Cy-Hawk Series matchup Thursday night on Mediacom Court.  The win snaps the Cyclones' three-game winning streak in the series and is Iowa's first over a ranked opponent this season.
 
"We heard some of the comments they made and we were hyped and wanted to win for each other more than anything," said senior Peter Jok. "I am happy for the guys on the team. We believed in each other when nobody really believed in us."
 
Jok was Iowa's focal point, scoring a game-high 23 points and grabbing a game-best nine rebounds, but the Hawkeye youngsters continued to come of age.
 
Redshirt freshman Isaiah Moss scored 14 points and played stellar defense on Iowa State's Monte Morris.  The Hawkeyes limited the Big 12 Preseason Player of the Year to 10 points on 4-of-15 shooting.
 
Freshman Cordell Pemsl added 11 points and grabbed five rebounds, and freshman Jordan Bohannon scored eight points, which included arguably the biggest basket of the game.
 
After seeing a 17-point second-half lead get whittled down to 60-53 with 6:10 remaining, Bohannon connected on a 25-foot 3-pointer to extend the lead back to double digits. Moss then followed with back-to-back layups in transition, stretching the Hawkeye advantage to 67-53 with 3:41 to play.
 
"I wasn't thinking much, I knew I was open and let it go," said Bohannon. "Coach McCaffery wants me to shoot those shots when we're open.  I have been shooting those shots most of my life, so it was nothing new to me."
 
Iowa shot 47.3 percent for the game and made 9-of-22 3-point field goals.  The Hawkeyes had a 13-4 advantage in transition points, out-rebounded the Cyclones, 42-39, but the game was won defensively. 
Iowa limited Iowa State to 35.7 percent shooting and an 8-of-30 night from 3-point range.
 
"We played five as one tonight," said Bohannon. "When someone got broken down we had help. When that guy got broken down, we helped the helper. That was big; we had a lot of energy the entire 40 minutes, which is what you need to do to win these big games."
 
The Hawkeyes took control of the game in a first half by shooting nearly 60 percent from the field.  The offense came in transition — an 11-0 advantage in fast-break points — and Iowa's defense limited the Cyclones to an 11-of-32 first-half performance.
 
"Right from the opening tip we were locked into the game plan," said UI head coach Fran McCaffery. "We stayed with it in terms of trying to keep it out of the paint, getting back, limiting their easy baskets, and second-chance opportunities."
 
Clinging to a 13-12 lead, the Hawkeyes grabbed the momentum by reeling off 10 unanswered points midway through the first half.  Baer was the catalyst, grabbing a rebound, going coast-to-coast and converting an and-one to give the Hawkeyes an 18-12 lead.  He followed with a steal and layup to push the lead to eight.
 
Baer did a little bit of everything for the Hawkeyes, finishing with 10 points and eight rebounds in just 17 minutes because of foul trouble.
 
"There is no substitute for all of the things he gets done for you on the floor in a positive way," said McCaffery.
 
The Hawkeyes opened a 30-17 advantage at the 7:28 mark before Iowa State closed the gap to nine on a Matt Thomas jumper with 4 1/2 minutes left in the first half. Iowa pushed its lead to 41-27 on a Moss 3-pointer and the first half's biggest lead came on a Jok 3-pointer — one that deadened on the back of the rim before falling — to give the Hawkeyes a 44-29 lead at the break.
 
Iowa stretched its lead to 17 points on the opening possession of the second-half before the Cyclones began clawing their way back.  The Hawkeyes — both young and old — stayed locked in.
 
"(Our freshmen) did a good job of staying composed when they made a run," said Jok. "They're going to make a run — we just had to stay composed, slow the ball down and run our offense.
 
"I am proud of the young guys and Baer and Dom and Ahmad.  They did a great job."
 
Iowa (5-5) will have a nine-day break before heading to Des Moines to face Northern Iowa in the Hy-Vee Classic on Dec. 17 at Wells Fargo Arena.