Hawkeye Fan Shop — A Black & Gold Store | Hawkeyes in the NBA | Hawk Talk Monthly — Dec. 2016 | 24 Hawkeyes to Watch
Editor's Note: The following first appeared in the University of Iowa's Hawk Talk Daily, an e-newsletter that offers a daily look at the Iowa Hawkeyes, delivered free each morning to thousands of fans of the Hawkeyes worldwide. To receive daily news from the Iowa Hawkeyes, sign up HERE.
By RICK BROWN
hawkeyesports.com
IOWA CITY, Iowa — Isaiah Moss has a picture-perfect jump shot. He developed it in the gym at Lincoln-Way East High School in New Lenox, Illinois.
 
"Back in my freshman year, my dad and I would go to the gym and shoot all day," Moss said.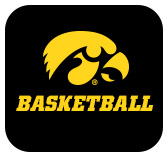 Isaiah fired away and his dad, Mike, would rebound. Those times were instrumental in Isaiah getting a full-ride scholarship to the University of Iowa. Now, the redshirt freshman guard is in the Hawkeyes' starting lineup.
 
His basketball career is a story of catch-up. He transferred to Simeon High School in Chicago for his final two seasons. It took some time for him to fit in on a team that included current Big Ten players Ed Morrow of Nebraska and D.J. Williams of Illinois.
 
Moss missed workouts in the summer of 2015 to complete some academic work. He redshirted during the 2015-16 season at Iowa.
 
"He ran the scout team, tried to learn what we do and how we do it," said UI head coach Fran McCaffery. "It just took him a little longer. He's still trying to figure it out."
 
Moss came off the bench in the first six games of his college career, averaging 4.5 points and 9.5 minutes. But he has been a different player since McCaffery inserted him into the starting lineup at Notre Dame. Moss has averaged 11.2 points and 22.2 minutes as a starter.
 
In his last two games, Moss scored a career-best 21 points against Stetson and 14 against Iowa State.
 
"Confidence has been a problem, just learning to be aggressive," Moss said, who was named the Big Ten Freshman of the Week on Dec. 12. "But I'm getting there."
 
Moss played a significant role in last week's upset of the Cyclones. He guarded Iowa State senior point guard Monte Morris, a preseason All-American. And though Moss never found a rhythm from the perimeter, making just one of four 3-point attempts, he showed a different side to his game. Moss was much more aggressive taking the ball to the basket off the dribble.
 
In the first half, he collected a rebound, covered the length of the floor in just seven dribbles and scored on a lay-up. He scored three baskets on drives to the basket in the final 4:35 of the game. He drew a foul on the last one, with just over a minute left, and added the free throw to put the game away.
 
McCaffery describes Moss as "a talented player who wants to be really good. He wants to be a great teammate. He wants us to win. He's on a path that has all of us ecstatic for him. Because you watch a kid who had some bumps in the road getting here, and not everything is smooth for everybody. I'm proud of him."
 
When Moss was buried on the bench earlier in the season, he never got down or dejected.
 
"I just tried to give my 100 percent, no matter now much time I was getting," Moss said. "The coaches told me to stay ready and that's what I did. A lot of people gave me support. My coaches, my teammates, we all worked together."
 
Moss shares an apartment near Carver-Hawkeye Arena with Ahmad Wagner and Christian Williams.  Even when Isaiah wasn't getting a lot of minutes, Wagner was in his ear.
 
"We know how good he is," Wagner said. "He's a little hesitant sometimes. I tell him, 'We know you're a good player. Keep on shooting. We know what you're capable of.'"
 
When Moss scored those 21 points against Stetson, Wagner had a smile on his face.
 
"I'm a guy who loves to see his teammates do well," Wagner said. "A guy like Isaiah, who wasn't playing that much but he's starting now, I love it. That makes me happy."
 
Senior guard and leading scorer Peter Jok has also helped Moss with his confidence.
 
"I tell him, 'Be aggressive,' '" Jok said. "He's one of our best scorers in practice. I'm just telling him to stay positive. When coach calls your name, you've got to be ready."
 
Moss is one of four Hawkeye freshmen who have scored at least 20 points in a game this season. Tyler Cook, Cordell Pemsl, and Jordan Bohannon are the others.
 
McCaffery, in his 21st season as a Division I head coach, has never had four rookies on the same team do that before. Entering this season, McCaffery's seventh at Iowa, he had had just five Hawkeye freshmen reach the 20-point plateau — Brady Ellingson, Mike Gesell, Josh Oglesby, Aaron White, and Melsahn Basabe.
 
With 10 of his 13 scholarship players either freshmen or sophomores, McCaffery knows the experience they gain this season will pay dividends down the road. That includes two more rookies, forward Ryan Kriener and guard Maishe Dailey.
 
"It's very encouraging," McCaffery said. "We have a young team and the thought process was that those (freshmen) have to produce for us to be good."
 
After a break for semester finals, the Hawkeyes return to action Saturday at 3:30 p.m. when they meet Northern Iowa in the Hy-Vee Classic at Wells Fargo Arena in Des Moines.