Hawkeye Fan Shop — A Black & Gold Store | 24 Hawkeyes to Watch 2016-17 | Hawkeyes in the NBA | Hawk Talk Monthly — Dec. 2016
By JAMES ALLAN
hawkeyesports.com
IOWA CITY, Iowa — It could be this week, it could be next, but freshman forward Tyler Cook is nearing a return for the University of Iowa men's basketball team.
 
UI head coach Fran McCaffery is being patient in Cook's return from a finger injury with two nonconference games remaining before the Hawkeyes open Big Ten play at Purdue on Dec. 28.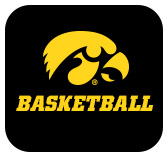 "We've been patient because we don't want another issue," said McCaffery on a Monday media teleconference. "We don't want this to come back on us. He'll do stuff today at practice and we'll see how he is then we'll make a game-time decision. It will be the same thing Wednesday if he doesn't play tomorrow."
 
Iowa hosts North Dakota at 8 p.m. (CT) on Tuesday and Delaware State at 8 p.m. on Thursday on Mediacom Court inside Carver-Hawkeye Arena.  The Fighting Hawks are 5-4 overall following back-to-back losses at Northern Iowa (78-70) and at home against North Dakota State (87-70).
 
McCaffery is playing around with how Cook will fit into the equation upon his return.  Prior to his injury, he was averaging 13.7 points and 5.3 rebounds, while shooting 56.4 percent from the field.
 
In all likelihood, McCaffery says Cook will be reinserted into Iowa's starting lineup (he started the first six games of the season). McCaffery believes Cook can play alongside freshman Cordell Pemsl, who has emerged in Cook's absence.
 
"They played together a little bit so far," said McCaffery. "I think they can play together because they're both willing passers, smart players, and they can both score and rebound.  But there will be times when they're not playing together because Ahmad (Wagner) has stepped up and been terrific, as has Dom (Uhl) and Nicholas (Baer).
 
"(His return) gives us another dimension when he comes back because it gives us another low-post scoring threat, rebounder, runner, and post defender, especially when you're thinking about (Purdue's) Caleb Swanigan and Isaac Haas when we go into league play."
 
The side story to Tuesday's game with North Dakota is the return of two former Hawkeyes.  Fighting Hawks' head coach Brian Jones was on Iowa's coaching staff from 1999-2006, while UND assistant coach Jeff Horner is the Hawkeyes' all-time assists leader.
 
Horner also was Peter Jok's head prep coach at Valley High School in Des Moines, Iowa.
 
"Jeff was phenomenal when we were recruiting Peter," said McCaffery. "He was as professional as they come. He is one of our all-time greats and I have a lot of respect for him. 
 
"I am happy that his coaching career is going as well as it has. He had great success at the high school level and is having great success at the collegiate level. I had a chance to spend time with him last summer on the road watching games, and I think he has an incredibly bright future."
 
Tuesday's game will be televised live on BTN with Wayne Randazzo and Jess Settles on the call.  Tickets are available through the UI Athletics Ticket Office at hawkeyesports.com or by calling (800)-IA-HAWKS.