Hawkeye Fan Shop — A Black & Gold Store | 24 Hawkeyes to Watch 2016-17 | KinnickEdge.org | Hawk Talk Monthly — Dec. 2016 | Outback Bowl Tickets | Outback Bowl Central | Outback Bowl Merchandise | Outback Bowl Tours | 2017 Outback Bowl Media Guide | VIDEO — Iowa's Outback Bowl History | VIDEO — Brandon Myers
Editor's Note: The following first appeared in the University of Iowa's Hawk Talk Daily, an e-newsletter that offers a daily look at the Iowa Hawkeyes, delivered free each morning to thousands of fans of the Hawkeyes worldwide. To receive daily news from the Iowa Hawkeyes, sign up HERE.
By DARREN MILLER
hawkeyesports.com
TAMPA, Fla. — Shonn Greene was Most Valuable Player of the 2009 Outback Bowl, but don't slight the impact from tight end Brandon Myers.
 
Greene, the Doak Walker Award winner, rushed for 121 yards and three touchdowns as the University of Iowa routed South Carolina, 31-10. But the opening drive belonged to Myers, who finished his final game as a Hawkeye with a team-high four receptions for 49 yards.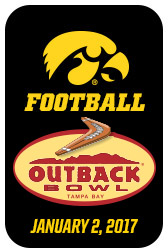 The first three times Iowa faced third down on its first drive, quarterback Ricky Stanzi found Myers, who moved the chains with catches for 11, 17, and 10 yards. The Hawkeyes scored on the opening drive with Trey Stross on the receiving end of a 6-yard touchdown pass from Stanzi.
 
"I have a lot of good memories from that game," Myers said. "Came out with three first-down catches on the first drive, they were big. We kept clicking from there and we made it a long day for (South Carolina), that's for sure."
 
When thinking of Myers, Iowa head coach Kirk Ferentz flashes back to another impressive performance during another impressive victory during the 2008 season. It was a cold and cloudy Nov. 8 day when the Hawkeyes and undefeated Penn State kicked off inside Kinnick Stadium.
 
Iowa trailed 23-21 when it started its final drive with 3:46 left following an interception by Tyler Sash. The Hawkeyes won the game on Daniel Murray's 31-yard field goal with a second remaining. Two key third-down receptions by Myers moved the chains to get within Murray's range.
 
"He had a third down catch that I remember vividly, it was right in front of our bench," Ferentz said. "Same thing in the Outback Bowl. Brandon was a big part of our success — he and Shonn Greene gave us outstanding weapons. He had a tremendous game against South Carolina."
 
As a true freshman in 2004, Myers dressed, but did not play, in the 2005 Capital One Bowl. As a redshirt freshman, he played in the 2006 Outback Bowl against Florida. He also played in the 2006 Alamo Bowl against Texas. During his career at Iowa, Myers caught 56 passes for 665 yards and nine touchdowns. All but one of those receptions came during his junior and senior seasons.
 
"It meant everything for me to be a Hawkeye," said Myers, who was named first-team All-Big Ten in 2008. "To get that opportunity to play for coach Ferentz changed everything for me. It gave me a lot of opportunities I wouldn't have had if I didn't go there and I'm very thankful."
 
"It meant everything for me to be a Hawkeye. To get that opportunity to play for coach Ferentz changed everything for me. It gave me a lot of opportunities I wouldn't have had if I didn't go there and I'm very thankful." — Brandon Myers
Success and playing time was not immediate for Myers. He had one reception as a freshman and none as a sophomore.
 
"If you look at the norm, most of our guys who made it to the NFL took a couple years to get their footing and do the work in the weight room and learn their trade and skills of their positions," Ferentz said. "That is exactly what Brandon did, and boy he played tremendous football down the stretch."
 
Myers continued to grow and improve after getting knocked down a few times at the start of his collegiate career.
 
"In high school, you're the best athlete and maybe you can get away with things. Coming to Iowa, I got humbled pretty quickly and I didn't play a lot of offense," Myers said. "I tried to get better; however I got on the field didn't matter, so I started on special teams and the way things worked out, I started catching some balls and went from there."
 
His jersey color has changed, but Myers still makes big plays in Raymond James Stadium. He is in his third season with the Tampa Bay Buccaneers, who sit 8-7 and host Carolina (6-9) on New Year's Day at noon (CT).
 
Myers has enjoyed a successful NFL career that began in 2009 when he was drafted in the sixth round by the Oakland Raiders. He was with the Raiders four seasons, catching a career-high 79 passes for 806 yards and four touchdowns in 2012. Myers played the 2013 season with the New York Giants, catching 47 passes for 522 yards and four touchdowns.
 
In 2014, Myers signed with Tampa Bay as an unrestricted free agent. He has 41 receptions as a Buccaneer, including two for 21 yards at New Orleans on Dec. 24. For the season, Myers has seven catches for 59 yards and a touchdown.
 
"Eight years is a lifetime in the National Football League," Ferentz said. "It speaks well to the work he has done and the improvement he continues to make. There is a lot to be said for showing up every day and being a really good teammate and a good football player. That's exactly what he has done. We're so proud of all our guys who have gone on to NFL opportunities. To have a career like Brandon has had is remarkable."
 
The next catch for Myers will be a milestone. As a professional he has 199 receptions for 1,954 yards and nine touchdowns.
 
The 6-foot-3, 256-pound Myers was a multi-sport standout at Prairie City-Monroe (Iowa) High School. When Myers was a senior, the Mustangs went 27-0 and won the Class 2A state basketball championship with a 58-57 victory over Fort Dodge St. Edmond in double overtime. He was named first-team all-state in basketball.
 
"Where I'm from, you are expected to play every sport — basketball, baseball, football, track," Myers said. "I always stayed active with the same group of friends that played every sport together. That was the fun part of growing up in a small town. You play every sport and you don't get locked into one or two sports."
 
What does Myers have in common with current Hawkeye Desmond King and Mike Daniels and Micah Hyde of the Green Bay Packers? All committed to Iowa late in the recruiting process.
 
"It was a little bit of a projection because I think Brandon was probably better on the basketball court than he was on the football field," Ferentz said. "He ended up coming to us and had a tremendous career as a Hawkeye."
 
Myers will attend the 2017 Outback Bowl with family. It comes one day after the Buccaneers' final game of the season. Myers will become a free agent after the game.
 
"I have been fortunate to stay healthy and be on teams where I have gotten the ball thrown to me a few times," Myers said. "I always stayed ready and it has been a fun eight years. You never know what the future holds, so I take it one game at a time. I have one more game to put my film out there and show who I am."