Hawkeye Fan Shop — A Black & Gold Store | 24 Hawkeyes to Watch 2016-17 | KinnickEdge.org | Hawk Talk Monthly — Dec. 2016 | Outback Bowl Central
IOWA CITY, Iowa — As a 10-year-old boy in Iowa City, Iowa, Ted Pacha's first job was selling soda at University of Iowa football games. He didn't sit in the stands for his first Iowa football game until a few years later. It was a life-changing moment.
 
"My passion for Iowa athletics started as a child, and it has never left," says Pacha. Today, Pacha and his wife, Deb (1977 R.A.D.T.), are taking their support to new heights.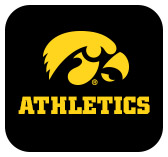 The Pachas have committed a leadership gift to the Kinnick Edge Campaign, a $25 million fundraising effort to help with renovations to Kinnick Stadium's north end zone. Last revitalized in 1983, Kinnick Stadium's north end zone will feature improved concessions, more restrooms, a view of the field from the concourse, an additional 1,600 premium seats, and a club room. The $89 million project is expected to be completed prior to the 2019 football season.
 
Private support is vital to the success of the UI Department of Intercollegiate Athletics — including facilities like Kinnick Stadium — because the department is self-supporting and receives no state funding. The Pachas have a long history of supporting Hawkeye athletics, and in recognition of their lifetime of generosity and their $5 million leadership gift for the Kinnick Edge Campaign, the Ted Pacha Family Club will be named in their honor. The Pachas' gift was announced Jan. 1, 2017, as part of the Outback Bowl festivities in Tampa, Florida.
 
"Over the years, my family and I have followed Hawkeyes sports, and that's led to many great relationships with Hawkeye athletic teams and provided our family with opportunities to form many wonderful friendships with Iowa student-athletes, coaches, and administrators," said Pacha. "We have a great passion for the mission of Iowa athletics and are extremely proud to take a leadership role in the Kinnick Edge Campaign."
 
A charter member of the I-Club's Kinnick Society, Ted Pacha made his first annual gift to Hawkeye athletics in 1974, and he hasn't stopped since — giving generously for more than 40 consecutive years. The Pachas have supported many capital projects over the years, including the P. Sue Beckwith, M.D., Boathouse, the Roy G. Karro Athletics Hall of Fame and Museum, and past renovations to Kinnick Stadium and Carver-Hawkeye Arena.
 
"Ted and Deb have been part of the Iowa athletics family for decades," said Gary Barta, UI director of athletics. "Through their support of our student-athletes, our coaches, and our programs, the Pachas have been among our most generous and invested Hawkeye fans. We are honored to call them friends, and their interest in helping us launch the Kinnick Edge Campaign is another example of their leadership and commitment to Iowa's success."
 
Pacha has been a long-time volunteer for Hawkeye athletics — serving as president of the National I-Club, the Iowa Women's Athletics Development Board, and the Johnson County I-Club. He was also named a UI Varsity Club honorary letterwinner and is a National I-Club Hawk of the Year honoree. He is the only person to serve in/be awarded all five of these honors.
 
"Ted was one of the first people Mary and I met when we arrived in Iowa City in 1981," said Kirk Ferentz, Iowa's head football coach. "What makes Ted so special is his fierce commitment and loyalty to his friends and community. Ted and Deb have been great friends to us — personally and professionally — and we are very grateful for their generosity and unwavering support."
 
After training as a medic and serving in the U.S. Army from 1968-74, Pacha started Hawkeye Medical Supply, which grew into one of the region's largest and most successful health-care distribution companies. Pacha spent 25 years as president and owner of Hawkeye Medical Supply, and he is currently the president of Theo Resources, a consulting firm.
 
The Pachas are season-ticket holders for Hawkeye football, men's and women's basketball, and wrestling. They have two sons — Kelsey, who will graduate in May from Pacific School of Religion in Berkeley, California, with a master of divinity and master of psychology and religion, and Alex, a fourth-year University of Iowa student.
 
"Some of my earliest memories are of sitting in Kinnick Stadium at Iowa football games with my dad," said Kelsey Pacha. "Cheering on the Hawkeyes has been a lifelong bonding experience for my dad and me, and I am very proud that his legacy will be honored with the naming of the Ted Pacha Family Club. I can't wait to take the next generation of Pachas to Kinnick Stadium, enjoy this new space, and continue the family tradition of supporting Iowa."
 
To learn more about the Kinnick Edge Campaign, visit KinnickEdge.org.
 
About the UI Foundation
The UI Foundation is the preferred channel for private contributions that benefit all areas of the UI, and its mission is to promote the UI's commitment to excellence through engagement and philanthropy. The university's dedicated contributors fund a broad array of needs, from student scholarships, breakthrough research and life-changing health care to innovative facilities, community outreach and global education.