Hawkeye Fan Shop — A Black & Gold Store | 24 Hawkeyes to Watch 2016-17 | KinnickEdge.org | Hawk Talk Monthly — Dec. 2016 | Outback Bowl Tickets | Outback Bowl Central | Outback Bowl Merchandise | Outback Bowl Tours | 2017 Outback Bowl Media Guide | VIDEO — Iowa's Outback Bowl History
Editor's Note: The following first appeared in the University of Iowa's Hawk Talk Daily, an e-newsletter that offers a daily look at the Iowa Hawkeyes, delivered free each morning to thousands of fans of the Hawkeyes worldwide. To receive daily news from the Iowa Hawkeyes, sign up HERE.
By CHRIS BREWER
hawkeyesports.com
TAMPA, Fla. — The spirit that brought Cole Croston back to the practice field is no different than the one that put him on a football field to begin with.
 
Croston, a fifth-year senior from Sergeant Bluff, Iowa, was a 225-pound walk-on long before he was a starting offensive tackle for the University of Iowa football team.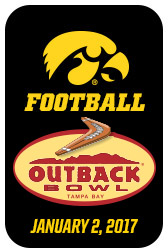 He has personified the rags to riches theme not uncommon in an Iowa program that thrives on developmental players like Croston. But each story is unique from beginning to end, and if Croston were to write his own first-person narrative, he would celebrate his blue-collar past.
 
"A lot of people don't know that side of the story," Croston said from Tampa, Florida, where the Hawkeyes are preparing to play Florida at the 2017 Outback Bowl. "It's not that they get treated unfairly or anything, but walk-ons come in with a chip on their shoulder. They're paying their way through school and football is basically a hobby.
 
"The ones who are able to earn scholarships or finish their time as a walk-on are extremely impressive. That's one of the highest honors I can think of because these guys are working their tails off day-in and day-out and paying for school. They're going to class, playing football, and paying their whole way through. If I had to write a story that would be my story."
 
Croston redshirted in 2012, played in two games as a walk-on in 2013, and was a special teams regular in 2014.
 
By the start of 2015, he had morphed into a 300-pound specimen that he was once admittedly unfit to play against. He had yet to crack the starting lineup, but he was on his way there and certainly on the radar of head coach Kirk Ferentz.
 
Ferentz knows offensive linemen as well or better than any coach in the country, and during preseason camp in 2015, he rewarded Croston's commitment to the Iowa program with a scholarship.
 
"Right before the season started coach Ferentz called me into his office and told me the good news," Croston said. "I ran downstairs and called my dad. He was excited about it."
 
Dave Croston, a three-year letterwinner and offensive lineman for the Hawkeyes from 1984-86, was Cole's inspiration for passing on offers to play football anywhere but Iowa.
 
"My goal was to be an Iowa football player," said Croston, who also visited Drake and Augustana. "It was my dream. Coach (Reese) Morgan came to my hometown and told me I was going to have a walk-on opportunity and I jumped on it. I might not have known what that entailed at that point — I'd be paying my way through school and I'd be playing football as a hobby — but I was glad that I did it because that was my dream and I achieved that dream."
 
Croston got his first shot with the first-team offense in Week 4 of 2015. Boone Myers left the game against North Texas with an injury, and Croston took over at left tackle. He started each of Iowa's next 10 games, from their road win at Wisconsin until the Rose Bowl, splitting time at both left and right tackle.
 
"When I got here (earning a scholarship) was my goal," Croston said. "My next goal was to start, and when Boone went out I had to go in for him and I didn't step out from there. So I achieved that goal, too."
 
At the end of the 2015 season, Croston was presented the "Next Man In Award" for the offense. By the start of 2016 he was named Iowa's starting left tackle. He started Iowa's first six games before an injury kept him out of lineup at Purdue. He returned one week later against Wisconsin and saw limited action against Penn State, but the injury kept him from playing at the level he had come to expect. The doctors shut him down for the final three weeks of the season.
 
"That was frustrating because I have never been hurt before to where I missed significant time," Croston said. "But it's also rewarding in that I got a different side and perspective of things. I worked with the strength staff and increased my strength, built my technique, and got back out there. I think I'm better than I was before."
 
Croston's impact on the field, however limited on time, didn't go unnoticed. He earned third-team All-Big Ten honors and shared the Brett Greenwood Award (presented to walk-ons that embody the values and behavior of the award's namesake) with fellow senior Riley McCarron.
 
It's a fitting award, and its principles are the reason Croston will finish his career on the field, rather than the training table.
 
"It's a great opportunity to be able to be back out on the field and finish playing with the Iowa Hawkeyes," Croston said. "Watching sucks. Getting out there and being able to move guys and be physical is fun. That's what lineman do."
 
The Hawkeyes play Florida on Monday in Croston's final collegiate game. Kickoff is noon (CT) at Raymond James Stadium. The game is televised on ABC.