Hawkeye Fan Shop — A Black & Gold Store | 24 Hawkeyes to Watch 2016-17 | Hawkeyes in the NBA | Hawk Talk Monthly — Dec. 2016
Editor's Note: The following first appeared in the University of Iowa's Hawk Talk Daily, an e-newsletter that offers a daily look at the Iowa Hawkeyes, delivered free each morning to thousands of fans of the Hawkeyes worldwide. To receive daily news from the Iowa Hawkeyes, sign up HERE.
By RICK BROWN
hawkeyesports.com
IOWA CITY, Iowa — Peter Jok scored 25 points in Sunday's overtime victory against Michigan. But University of Iowa head men's basketball coach Fran McCaffery thought Jok's most important play was an assist at crunch time.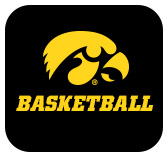 "He could have shot it," McCaffery said. "But he waited and then he drove it, drew three defenders and hit (Nicholas) Baer for an easy shot down the stretch. To me that was a big play in the game, and a big play for our team."
 
Baer's basket, a jump hook from deep in the lane with 2:31 remaining in overtime, gave Iowa an 81-79 lead. Jok's 3-pointer and two free throws in the final 75 seconds got his team over the hump in an 86-83 triumph.
 
Jok is on an island when it comes to Iowa's starting lineup. He is a senior. The other four starters against Michigan — Jordan Bohannon, Isaiah Moss, Tyler Cook, and Cordell Pemsl — were freshmen.  The lineup is expected to be the same when the Hawkeyes visit Nebraska for an 8:06 p.m. (CT) Big Ten game Thursday at Pinnacle Bank Arena in Lincoln, Nebraska.
 
Jok's ability to lead his young team in ways other than scoring will be just as important as his ability to put the ball in the basket.
 
"It's going to be the key for our team and it's going to be the key for him as he gets evaluated for the next level," McCaffery said. "Everybody knows he's got as good a jump shot as there is in college basketball. Certainly the best I've ever coached."
 
Jok is averaging 22.1 points a game, which leads the Big Ten and is 16th nationally. Sunday was the sixth time he has scored at least 25 points in a game this season. He is shooting 41.2 percent from 3-point distance and 92 percent from the free-throw line.
 
But it's Jok's ability to set screens, deliver assists, and grab rebounds that will determine how far he'll take his game beyond college. That skill set will also make Iowa a much better team. Plays like the pass to Baer, for example.
 
"That just makes it much more difficult for teams preparing for us, knowing that Pete is going to make that play on a consistent basis," McCaffery said.
 
Jok leads the Hawkeyes in rebounding at 6.1 per game and is second in assists (2.3 per game).
 
This is believed to be the first time in program history that an Iowa team has started four freshmen. Iowa started three freshmen — Dick Ives, Dave Danner, and Jack Spencer, along with sophomore Ned Postels, and senior Skip Herwig, in 1943-44.
That means plenty of potential for this team, and plenty of growing pains.
 
"I'm encouraged with what they're doing," McCaffery said. "They've shown a lot of toughness, and they're figuring a lot of stuff out. I still think we have to get better defensively."
 
The Michigan game was the first time the four freshmen started together. Cook was a starter when the season began, but missed seven games with a broken finger. Pemsl, started in Cook's place. They started together for the first time against Michigan.
 
"It's going to take some time for them to really be comfortable with each other," McCaffery said. "They're both competitors, character guys, and talented. And they're good friends and roommates. They want to work together, be good teammates, and want to be part of good teams. The other night was a great first step for both of them."
 
Iowa's first Big Ten game didn't go well, an 89-67 loss at No. 15 Purdue. The Michigan game was a step forward. Now comes Thursday's game at Nebraska, a team that has turned the Big Ten upside down with victories at Indiana and at Maryland to open league play.
 
Add Minnesota's victory at Purdue on Sunday and it promises to be a wild parity ride of a Big Ten season.
 
"I think it's going to be like that all season long," McCaffery said.
 
Thursday will be another opportunity for a young team to grow.
 
"Everyone knows it's going to be more difficult when you're playing on the road," McCaffery said. "How do you handle a run when it takes place? Obviously we didn't do a good job of that at Purdue; you learn from that experience. Having been through that experience, we'll be better. It doesn't mean we'll be perfect, but we'll be better."