Hawkeye Fan Shop — A Black & Gold Store | 24 Hawkeyes to Watch 2016-17 | Hawkeyes in the NBA | Hawk Talk Monthly — Jan. 2017 | Fran McCaffery Transcript (PDF)
IOWA CITY, Iowa — The University of Iowa men's basketball team has watched the game film four times since its Big Ten-opening 89-67 road loss at Purdue 16 days ago in West Lafayette. Now it's time for a rematch.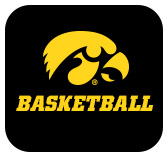 The Hawkeyes host the 17th/19th-ranked Boilermakers on Thursday at 8:06 p.m. (CT) on Mediacom Court inside Carver-Hawkeye Arena.  Tickets are available for purchase by clicking HERE.
 
"It's hard to watch a game like that when so many things don't go your way," said sophomore Cordell Pemsl, who is averaging 10 points and 5.2 rebounds per game. "We want to learn from those mistakes and see what we can do tomorrow."
 
Purdue jumped on the Hawkeyes from the opening tip and didn't let its foot off the gas. The Boilermakers made 10 3-pointers in the first half and 12 for the game before their post tandem of Caleb Swanigan and Isaac Haas took over in the second half.
 
"They shot well; I don't think they'll shoot like that again," said senior Peter Jok. "We have to go back to how we beat them last year. We have to be ready from the start. The last game they had a great start and we couldn't come back from it.  This time we're going to be ready."
 
UI head coach Fran McCaffery says Iowa's defensive approach will be similar, but with some adjustments.
 
"There is going to be a lot of similarities in terms of we thought we needed to do this, we still have to do that," McCaffery said in a Wednesday news conference. "But both teams, even though it hasn't been that long, we're both different teams than we were that night."
 
The Hawkeyes are 2-1 since with four freshmen in the starting lineup. Iowa beat Michigan in overtime, 86-83, on Jan. 1 before losing a double overtime heartbreaker at Nebraska (93-90) on Jan. 5. Iowa evened its Big Ten record at 2-2 with a 68-62 win over Rutgers on Jan. 8.
 
Purdue is tied atop the Big Ten standings with a 3-1 record and is 14-3 overall. The Boilermakers fell to Minnesota on Dec. 28 — their only loss since the start of December — before rebounding with a 66-55 victory over Wisconsin to snap the Badgers' nine-game winning streak.
 
Iowa's No. 1 goal Thursday is to start better. In West Lafayette, the Hawkeyes found themselves down 8-0 from the onset and 25-8 through the game's first eight minutes.
 
"Hitting 10 3s takes the positive energy out of the game right off the bat," said Pemsl. "Our goal is to not let the game get out of hand so quickly. We need to talk and communicate on defense, understand who has the hot hand and whom we need to control from the opening tip.
 
"If we can do that and get the ball moving on offense, we should have a better game than we showed the first time."
 
Purdue limited Jok to 13 points on 4-of-15 shooting on Dec. 28; it ties for his lowest scoring output of the season. He is expecting another physical encounter Thursday.
 
"They double-teamed me everywhere I went," said Jok. "They will face guard me and have somebody waiting. I have to be more of a playmaker, find other guys, and trust in my teammates to get them open shots."
 
Thursday's game will be televised on BTN with Dave Revsine and Stephen Bardo on the call.