Hawkeye Fan Shop — A Black & Gold Store | 24 Hawkeyes to Watch 2016-17 | Hawkeyes in the NBA | Hawk Talk Monthly — Jan. 2017
Editor's Note: The following first appeared in the University of Iowa's Hawk Talk Daily, an e-newsletter that offers a daily look at the Iowa Hawkeyes, delivered free each morning to thousands of fans of the Hawkeyes worldwide. To receive daily news from the Iowa Hawkeyes, sign up HERE.
By RICK BROWN
hawkeyesports.com
IOWA CITY, Iowa — The University of Iowa men's basketball team started four freshmen for the first time this season against Michigan. It was New Year's Day, and the Big Ten home opener at Carver-Hawkeye Arena.
 
It was against a Wolverine program that opened Big Ten play starting five freshmen — known as the Fab Five — at Carver-Hawkeye Arena on Jan. 9, 1992.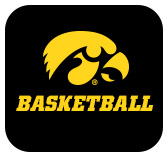 UI head coach Fran McCaffery has started the four freshmen — Tyler Cook, Cordell Pemsl, Jordan Bohannon, and Isaiah Moss — in all six Big Ten games heading into Thursday's home date with league-leading Maryland.
 
The Hawkeyes, 3-3 in the Big Ten and 11-8 overall, have had their share of ups and downs a third of the way through the conference schedule.
 
"We've never really experienced this before," Bohannon said. "We know we can lean on each other when we're going through difficult times."
 
This is the first time in program history that four freshmen have shared the starting lineup.  The NCAA allowed freshmen to compete starting with the 1972-73 season. But they were also eligible during World War II.
 
The 1943-44 Hawkeyes started three freshmen — Dick Ives from Diagonal, Dave Danner from Iowa City, and Jack Spencer from Davenport.
 
Nine players from the 1942-43 team, including the top three scorers in Tom Chapman, Sr. (Army Air), Ben Trickey (Marines), and Jim O'Brien (Army), were gone serving their country.
Coach Pops Harrison had 14 freshmen on his 17-man roster. McCaffery has six freshmen on his roster — the starters plus Ryan Kriener and Maishe Dailey.
 
Ives scored a freshman-record 43 points against the University of Chicago in 1943-44. That still ranks third all-time, trailing only 49- and 46-point efforts by John Johnson.
 
Ives averaged 18.1 points and Danner 14.4 as the Hawkeyes went 14-4 and tied for second in the Big Ten race. Ives and Danner are two of 15 Iowa freshmen with season scoring averages in double figures. Cook could make it 16. He is averaging 12.8 points. Pemsl (9.3) and Bohannon (8.8) are in the neighborhood.
 
In addition to being the first team to start four freshmen, this season's group has already had set some new program standards.
 
This is the first time four different players have scored at least 20 points in a game. That doubles the previous mark, which had happened five times. Cook scored 24 points against Seton Hall. Bohannon had 23 at Notre Dame. Pemsl and Moss both scored 21 against Stetson.
 
Kriener became the fifth freshman to reach double figures when he scored 14 points in Sunday's loss at Northwestern. That is another new standard. Four different freshmen had scored in double figures twice before — Paul Lusk, Kevin Smith, Chris Street, and James Winters in 1990-91 and Melsahn Basabe, Devyn Marble, Zach McCabe, and Branden Stubbs in 2010-11.
 
Here are some more standards this season's freshmen group could establish before it is over:
 
Most starts in a season — The current team has 49 combined starts. The record is 81, established in 2012-13 (Adam Woodbury 38 starts, Mike Gesell 30 starts, Anthony Clemmons 13 starts).
 
Points per game — Iowa's rookies are averaging 37 points through 19 games. That currently ranks second. The freshmen on the 1943-44 team averaged 40.7 points.
 
Average minutes played — McCaffery has used his freshmen an average of 92 minutes a game. The record is 87.3 minutes in 2009-10.
 
Double-figure scoring games — That number rests at 30 right now (Pemsl 10, Cook 9, Bohannon 5, Moss 5, Kriener 1). That ties for third all time, trailing only the 1997-98 team (42) and the 2008-09 team (31).
 
Rebounds per game — This group is averaging 15 rebounds a game, trailing only the 2000-01 team (16.3).
 
Back in 1985-86, head coach George Raveling brought in a recruiting class anchored by Roy Marble, B.J. Armstrong, and Ed Horton. Raveling also created a bumper sticker that read, "Just Wait 'Til They're Old Enough to Shave."
 
Marble is Iowa's career scoring leader, Armstrong is fifth, and Horton 16th. Horton is also No. 5 in career rebounds and Armstrong No. 5 in career assists.
 
Time will tell the story of this freshman class, but they're off to an encouraging start.
 
"We pick each other up on the floor, and we're friends off the floor," Pemsl said.