Hawkeye Fan Shop — A Black & Gold Store | 24 Hawkeyes to Watch 2016-17 | Hawk Talk Monthly — January | Weekly Notes — Weeks 2 (PDF)
THIS WEEK FOR THE HAWKEYES
The University of Iowa women's tennis team hosts its home opener Saturday against the Creighton Bluejays at 6 p.m. (CT) at the Hawkeye Tennis and Recreation Complex. Admission is free.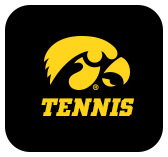 QUOTING @SashaSchmid
"It's been great to get back into the routine of the spring semester this week. We need to stay focused on intentional practices and keep improving every day. I know the team is looking forward to getting back to competition and playing at home this weekend." 
HAWKEYES WIN SEASON OPENER
The University of Iowa women's tennis team defeated the University of Central Florida, 5-2, in its season opener. The win was highlighted by singles victories from freshmen Elise van Heuvelen, sophomore Kristen Thoms, juniors Zoe Douglas and Anastasia Reimchen, and senior Aimee Tarun. 
TAKING ON THE BLUEJAYS 
Saturday's match will be the second meeting between these two teams. The previous match between these two schools was in 2013 and resulted with the Hawkeyes defeating the Bluejays, 7-0, at the Hawkeye Tennis and Recreation Complex.
HOME COURT ADVANTAGE
The Hawkeyes have seen success at the Hawkeye Tennis and Recreation Complex over the years. Iowa has finished .500 or better at home each of the last five seasons, and has won its last three home openers.          
DEADLY DOUBLES WITH DOUGLAS
University of Iowa junior Zoe Douglas has been the common denominator on Iowa's top doubles team. She opened the 2017 season with a doubles vicotry with freshman Elise van Heuvelen at the No. 1 doubles position. Douglas and junior Anastasia Reimchen were 7-5 last season and reached as high as No. 49 in the country. Their biggest win of the season was a 6-2 victory over Ohio State's third-ranked Miho Kawase and Anna Sanford. Douglas and Reimchen opened the fall season ranked No. 45, but they did not see court time together. Instead, Douglas put together an 11-5 record with van Heuvelen. Douglas has a 40-29 career record in doubles. 
HAWKEYE NEWCOMER
Elise van Heuvelen won her singles and doubles matches at the No.1 position in her Hawkeye debut against the University of Central Florida. She joins the University of Iowa women's tennis program as the only freshman on the team. In her first fall season, van Heuvelen went 9-3 in singles play and 11-5 in doubles. 
WELCOME BACK SASHA
Former University of Iowa student-athlete and assistant coach Sasha Schmid was named head coach of the UI women's tennis program on July 29. Schmid, a four-year letterwinner from 1992-96 was the Hawkeyes' team MVP in 1996. She was an assistant coach at Iowa from 1997-1999, helping the Hawkeyes reach the NCAA Championships for the first time in program history, a top 25 national ranking, and a berth in the NCAA sweet 16. Schmid returns to Iowa with 15 years of head coaching experience, including 10 years at Stetson University (2002-11) and five seasons at the University of Missouri (2012-16). Her Tiger teams were ranked nationally in 2012, 2013, 2014, and 2016 while competing in both the Big XII and SEC.
BECOME A FAN
Fans can follow the Iowa women's tennis team at facebook.com and via twitter 
@Iowa_Tennis. Live results from this weekend are available on the Iowa women's tennis schedule page at hawkeyesports.com.