Hawkeye Fan Shop — A Black & Gold Store | 24 Hawkeyes to Watch 2016-17 | Hawkeyes in the NBA | Hawk Talk Monthly — Jan. 2017
Editor's Note: The following first appeared in the University of Iowa's Hawk Talk Daily, an e-newsletter that offers a daily look at the Iowa Hawkeyes, delivered free each morning to thousands of fans of the Hawkeyes worldwide. To receive daily news from the Iowa Hawkeyes, sign up HERE.
By RICK BROWN
hawkeyesports.com
IOWA CITY, Iowa — With four freshmen in his starting lineup, University of Iowa men's basketball coach Fran McCaffery has established some school history.
 
The Hawkeyes had never started four freshmen in the same season until this year.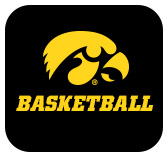 You have to go all the way back to the 1943-44 team, when head coach Pops Harrison started three freshmen, to find anything close. And that team established some school history as well.
 
Inexperienced? That's one way to describe Harrison's Hawkeyes that season. With World War II in full gear, Iowa's experienced players had been called to serve their country. As a way for universities to still field teams, freshmen were allowed to compete for four seasons starting in the fall of 1943.
 
Eric Wilson, the University of Iowa's first sports information director, wrote "this probably is the first time in many years that no experienced men from the previous year's squad returned. Service calls made a clean sweep of the 1942-43 squad. And being an Army university, Iowa had the services of no Navy or Marine trainees, so the squad is all civilian."
 
Harrison had 14 freshmen on his 17-man squad. A dozen of those 14 newcomers came from Iowa high schools.
 
"Coach Harrison points out that he has hopes of well-balanced scoring, since most of the first string players are better-than average shooters," Wilson wrote. "Defensively, the men may not be too strong, because, as are many high school players of the present, they are offensive-minded."
 
And a record-setting offense was this team's calling card. The Hawkeyes would finish the season 14-4 overall. They tied for second in the Big Ten at 9-3 while setting 28 records and tying five more.
 
Harrison's freshman starters that season were forwards Dick Ives from Diagonal, Dave Danner from Iowa City, and guard Jack Spencer from Davenport.
 
Danner was also a starting end on the football team that fall. Ives, according to Wilson, "shoots well, is very fast and clever, and handles the ball cagily." Spencer, Wilson said, "could become the best player on the squad."
 
They were joined in the starting lineup by Ned Postels, a transfer from South Dakota State, and Lloyd Herwig, a graduate student from Luther College.
 
In a season preview, the Des Moines Register summed up Harrison's team this way: "Capable of breaking out as a high-scoring outfit, the Hawkeyes will floor a tall team, averaging 6-feet 2-inches. Defensively, however, there are question marks."
 
Iowa opened the season by beating Nebraska at home, 50-33, as Ives scored 19 points in his college debut. That is still a school record for most points scored by a freshman in his first game. Aaron White matched Ives with a 19-point game against Chicago State in 2011-12.
 
Harrison's team would win their first 12 games, and Ives scored in double figures in 10 of them. The winning streak was in jeopardy in a Jan. 28 game at Indiana, but Danner's basket with 10 seconds to play pulled out a 43-42 victory.
 
The final victory in that 12-game winning streak was a 103-31 thrashing of the University of Chicago.  Seventeen records fell in that game alone, four were all-time Big Ten marks. Ives set one with a 43-point night. The 43 points still rank third all-time in Iowa history, trailing only John Johnson's games of 49 points against Northwestern in 1969-70 and 46 points against Wisconsin-Milwaukee in 1968-69.
 
Danner added 32 points in the one-sided victory as freshmen scored 88 of the 103 points.
Both Ives and Danner surpassed Iowa's previous single-game scoring record of 29 points held by Tom Chapman, Sr., one of the Hawkeyes who was away serving his country.
 
Iowa's winning streak, which included a 7-0 Big Ten mark, ended the following game. Ohio State beat the visiting Hawkeyes, 63-49. Iowa had a 23-10 lead in the first half, but the Buckeyes tied the game, 24-24, and pulled away down the stretch.
 
Back then, Big Ten teams often played the same opponent on back-to-back nights. Ohio State made it a sweep with a 56-42 victory the following day. Ives was held to nine points, one of just four games where he didn't reach double figures.
 
Iowa hosted Northwestern in the final two games of the season, knowing a sweep would give them a share of the Big Ten title. The Hawkeyes won the first night, 45-39. But the Wildcats pulled off a 42-41 upset the following day. The Hawkeyes tied for second with Wisconsin, one game behind Ohio State.
 
Ives led the Big Ten in scoring, averaging 17.3 points in league games and 18.1 overall, still an Iowa freshman record. He scored 21 points or more in six games. Danner tied for second in the Big Ten in scoring at 16.1 points a game, and 14.4 overall. He had three games of 20 points or more. Freshmen accounted for 78.2 percent of the points that record-setting season.